Checking your website ranking on Google is not difficult to do, but you'd be surprised at how often people misconstrue the data they see. I will show you how to avoid that and also how I check my positions using 3 different options. 
Understand that in order to check rankings for a website, you first need to identify which keyword you are trying to appear for. Even if you posses at least a little bit of knowledge on keywords, you will know that in order to rank for them, you first need to write an article and title it with that keyword.
Every method I will show you, all begins from that point. Although sometimes I do write articles with no intention to rank for any keyword whatsoever. In those cases, I actually do find I still see traffic come in from miscellaneous searches. 
Also understand that ANY website with any content WILL rank on Google. It maybe on the first page or it may be on the 20th. But it will be there, somewhere…
I usually refer to rank as "indexing" meaning Google has picked up the URL and put it on the search engine, but where and how you find it will be covered. 
Here are 3 big mistakes people make when checking their positions:
1) They have an account with Google +, are logged in there and share an article they wrote with their network. Let's say that what they shared is chasing a keyword. They then do a search for that term and see it's on the first page within a day. Be careful because that position might ONLY be exclusive to you and here is how you find out:
Check to see if the URL for the page has the terms: Google or Plus in it. If so, then it means the position you see your page on is just the page you shared, not the actual URL of the page which means that for other people who do the same search, your page will not appear. I have seen people make this mistake, and it was very hard for me to tell them about it.
2) They think they rankings will always stay in one place. Not true. They will always move around (Google Dance).
3) People focus too much on checking their positions (they even wait a lot) and all that unnecessary attention wastes too much time.
The 3 ways I check my positions (How to Find Your Website's Ranking in Google):
Accuracy and rankings don't often fit together since I did say they always move around, BUT these methods will help you keep track of where they generally are. Do not be surprised if websites bounce from a 7th page position to a 1st, then down several pages often. It's OK for this to happen.
Also we will measure positions from the number 1 (meaning 1st position on the 1st page) all the way down. Every 10 represents a page, so 1-10 is the first page, 11-20 is the second, ect…
Option 1: The manual search.
Have an article written for a keyword you found and want to know how it's doing? Just do a search on it.
Now I only recommend you use this option when your website has high authority as pages you write for keywords tend to hit first page rankings faster. If it doesn't, you may find yourself scrolling through page after page, wasting time and worrying that you may have missed it. 
If you do find yourself going past the first page looking for your site, one way to quickly identify if your page is or isn't on the search result is to use the "Ctrl + F" option which opens up a window where you can type the URL of your website and if the URL is on the search result, it will show up. This helps you save time from looking over every page being displayed. For example: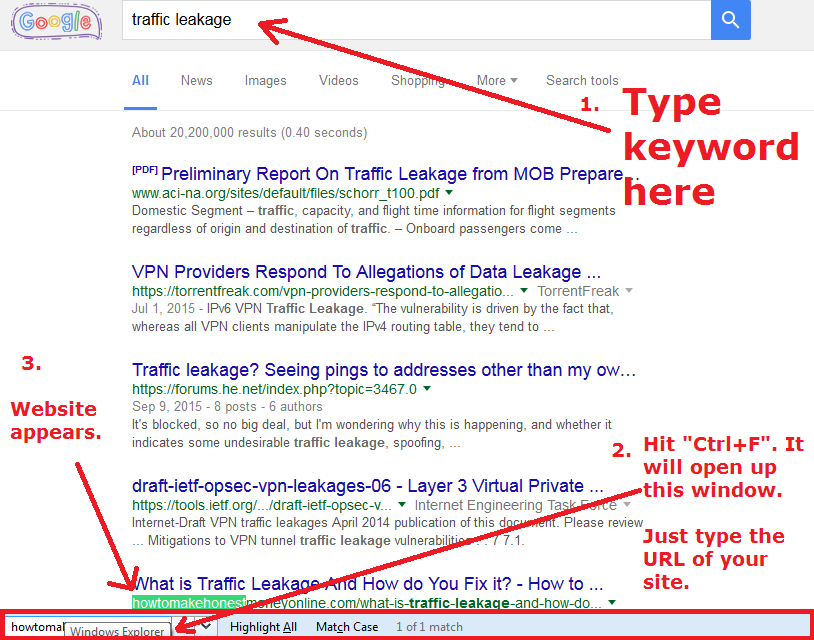 I used an example where I did have a first page position, but if your site is on the later pages, just do the same thing.
I just typed my keyword, and on the page, I hit "Ctrl + F" (not together), and even before I finished typing my URL, it was highlighted in green as you can see. By using this option, I now know my site is ranked 5th on page 1 for this term.
Option 2: Jaaxy.
Some keyword tools out there have an option to do these types of checks for you. Enter Jaaxy, the one I use to check all my website positions:

Note: Did you notice how in the first option, I was in position 5 but in the second option, I was position 6? Well this is because not all ranks are equal. Sometimes they are different for other countries and people, but I would say the second option gives you a better idea of where your general rank is. 
Option 3: Webmaster tools, it's free an it's awesome.
The difference between using Webmaster tools vs the other 2 options I've shown you is that here they give you the stats. You can't exactly type in a term and see where it's positioned, but this tool is really great because it can give you an overview of how Google treats your website. 
You should immediately get a free account and set up a site map on it. You will notice that as time goes on, you will be able to check this program to see how it's performing in multiple things including traffic and ranking for keywords. Although you probably won't get a full list of all the terms, there is no other service that will provide that kind of information like Webmaster Tools.
Once you register your site there, you should see this page: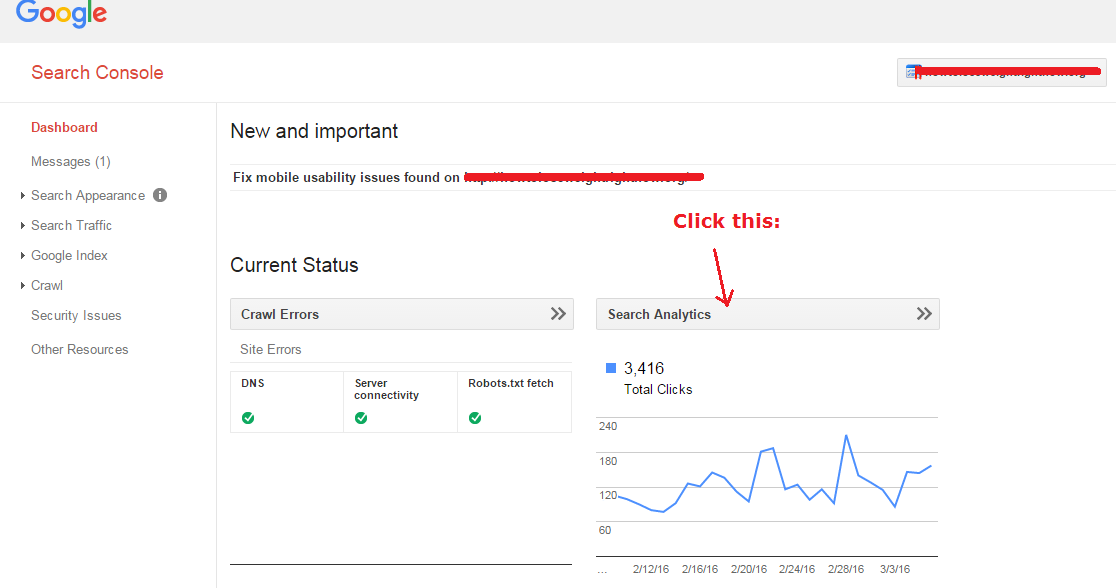 When you hit the search analytics option, it will take you here: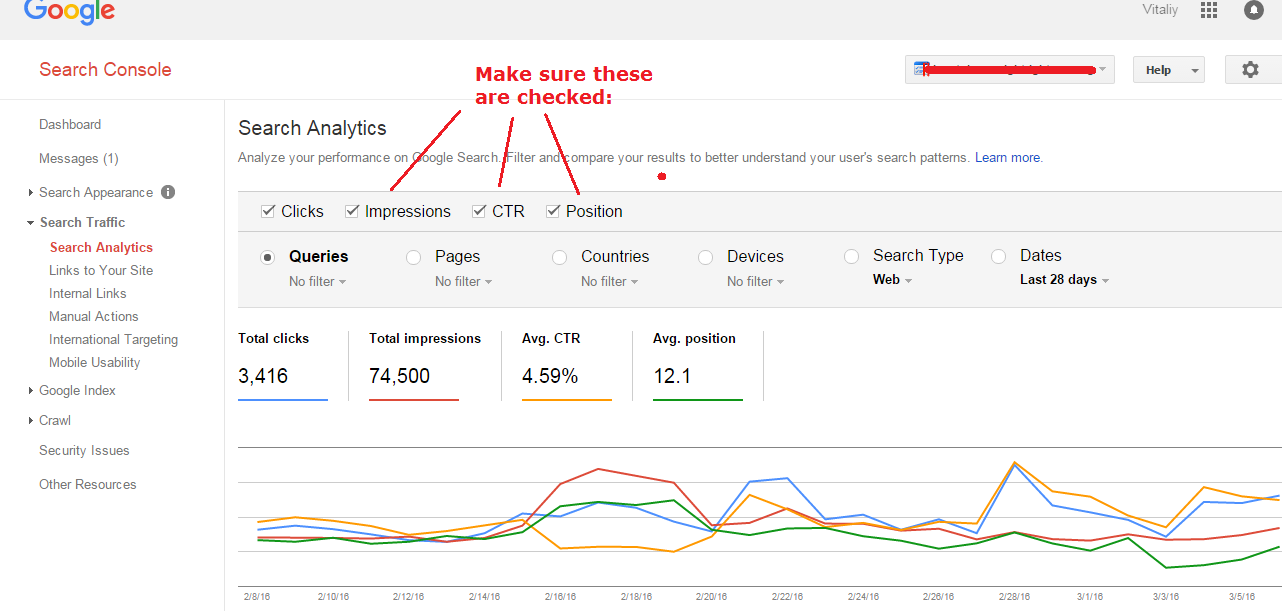 By default "Clicks" will be checked, but you will need to click on the other terms (Impressions, CTR and especially position) to see the rankings. Out of the selected terms, the one I am least concerned with is the average position. I don't worry about this because most of my terms aren't going to be ranked very high so to measure my overall site's performance on average rankings makes no sense. 
But once you do select the terms, the page itself will become longer but it will also reveal the information we seek, the actual keywords AND positions (well the general ones):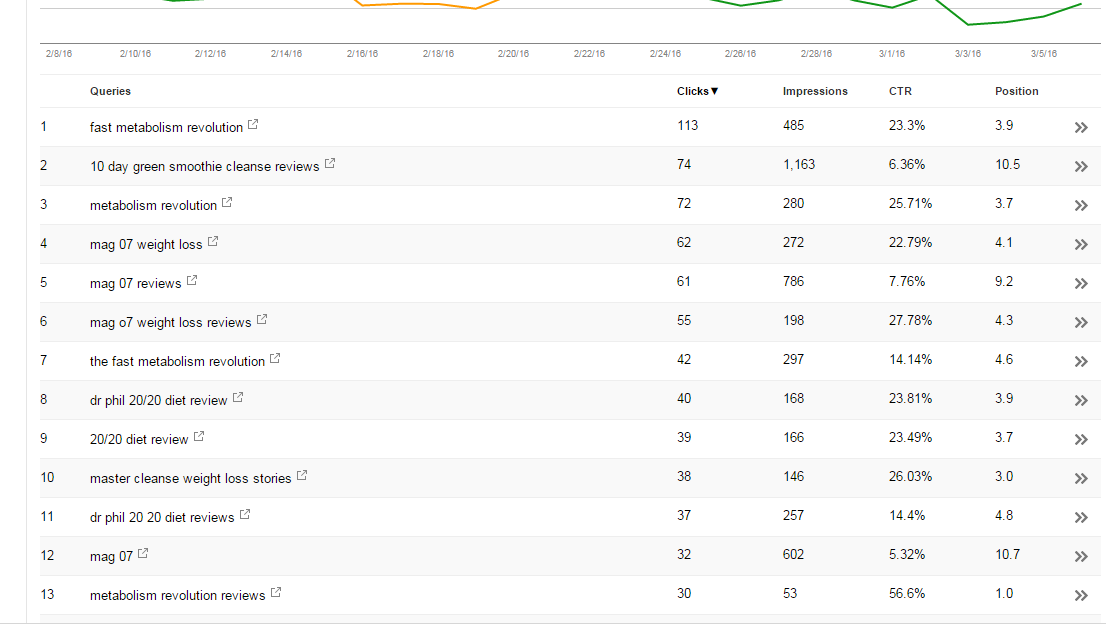 Now on this page, there are a lot more keywords that show up, but they are shown based on which get the most clicks. Out of this list, the ones I put my attention on are any that are within the 1-10 category I talked about earlier. This means it's on the first page, which there are 11 of in this case.
But If you also keep scrolling through this list, you'll see hundreds of results like these so it just shows that most of your keywords won't rank high. Don't worry!
Now there are also arrows to each phrase which just open up a new page that examines them on their own. I don't use that feature, but there are many more ways you can utilize Webmaster Tools. This is the most basic.
My final thoughts: 
As long as you are constantly creating bran new content through low competition keyword/s and also things like new comments from your visitors, you will not have to worry about ranking. They will happen and they will improve across the board.
Although it is always nice to see, I find that as I become more experienced, I worry and check less on where my website is positioned and focus more on writing vs more beginner type people who spend a lot of time doing the complete opposite. Just check your website's ranking occasionally and don't let the constant positional changes distract you from doing what is proven to get success: Writing.