If you are looking for a good review of Home Cashflow Shortcut and want to know if it is a scam, you will absolutely find it here because I have personal experience with what it leads to and let me tell you, my opinions are mixed.
I'm going to explain everything about this program, in this review, and how it works, but I will also be be recommending a different program that I personally get results from that in my opinion is FAR better than Home Cashflow Shortcut and you'll see why shortly…
Home Cashflow Shortcut, the quick review:
Price: $37 but there will be upsells afterwards that vary and possibly rise as high as $10,000+.
Creator: A woman named Ace. 
What does this program teach you? It literally directs you to a program called Super Affiliate Network, of which I have been a member of.
I assume Ace is one of Super Affiliate Network's top promoters and this program in general teaches you about affiliate marketing and getting started with it and I did get some good value from my time with this program.
But I did leave because I felt another program which taught this material offered me more, for less (Wealthy Affiliate).
I have a personal review of Super Affiliate Network and my experiences with it, and overall, besides teaching you affiliate marketing, it also teaches you how to promote the Super Affiliate Network and make big commissions from that.
However, I am going to be going into the reasons why I didn't stay with this program for too long shortly. So let me give you my score of Home Cashflow Shortcut, give you my 3 personal reasons for not joining it, and what I think is better for learning affiliate marketing, that personally get's my results…
Overall score:

3 out of 10 stars.
I'll explain why this score was given out shortly, and get into more details on the program below, but first…
Let me show you what I recommend over Home Cashflow Shortcut: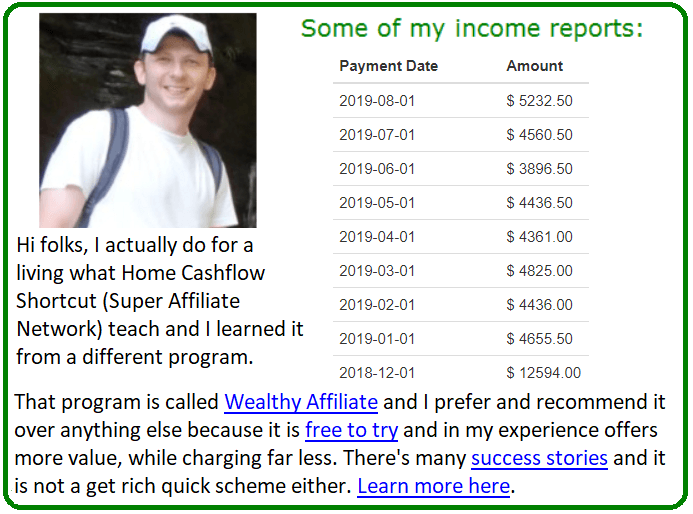 Getting into details about Home Cashflow Shortcut and how it works:
As I said before, you learn about affiliate marketing, which is something I have done for many years. If you would like a fully disclosed and free explanation of affiliate marketing, how it works and all of that info, you can see my $1 million earnings report on affiliate marketing there.
I can tell you in my subjective opinion that it will explain more than Home Cashflow Shortcut's sales video did.
Since the program takes you into Super Affiliate Network, which I said I was a member of before, let me share what I remember learning from it…
1) There was an inexpensive trial I was a part of and it gave me access to videos broadly explaining affiliate marketing and giving me positive testimonials about Super Affiliate Network.
2) You also get a lot of hours of testimonial videos talking about how good Super Affiliate Network is.
3) You will also get hours worth of training videos on affiliate marketing and how to start it.
My personal experiences with Super Affiliate Network explained…
While some of the training videos were good in quality, a large part of the members section consisted of the testimonials and the requirement to upgrade if I wanted to see more and that involved talking to a coach and while my experiences with the coach were not very positive, I did have the opportunity to speak with Misha, the creator of Super Affiliate Network and I did find out from him that in his program, you are offered higher tier upsells, that can get into $10,000+ offers.
I have to mention that while my experience with the coach was negative, my email conversations with Misha were pretty positive and he was very polite to me.
4 reasons I did not join Home Cashflow Shortcut:
1) Since it led into Super Affiliate Network, which I tried before, there was no added value of me joining it again.
2) I was already a member of Super Affiliate Network and left.
3) A big reason why I left was because to go further into the membership, I'd likely have to pay way more but beforehand would need to speak to a coach and that exchange is not one I want to talk about in detail (generally speaking, I found the dude to be pretty rude and standoffish because I didn't want to spend more).
That's all I'm going to say. But to be fair again, Misha on the other hand was nice to me.
4) I already do well with affiliate marketing so I have a different perspective of how to succeed with it and through the Wealthy Affiliate program, while it took time, I managed to succeed with affiliate marketing without needing to spend the crazy sums of money to learn it.
Things I liked and didn't like about Home Cashflow Shortcut:
So this is basically a pros and cons to this review…
First the positives:
1) It appears the testimonials on this page are from Super Affiliate Network directly, and I do believe they are authentic. 
2) There is a disclaimer on the sales page that this program is not for people looking for get rich quick schemes.
Then the negatives:
1) Despite the sales page mentioning this is not a get rich quick scheme, the name of this program itself and the testimonials, at least in my mind give me a different, contradictory picture. Let me know if you have the same or different viewpoint on that.
2) I know what investment is going to be pitched inside Super Affiliate Network eventually and I honestly do NOT like to recommend anything that is ever of this high ticket magnitude. I know people can learn affiliate marketing without paying so much! 
Final Rating: Home Cashflow Shortcut.

Yellow Flag.
3 out of 10 stars: I have mixed views on Super Affiliate Network overall, but do not think it is a scam.
I did enjoy some parts of it, and others, which required a lot of investment, I stayed away from because I personally never had to spend that much to get results personally (proof coming up) and don't feel it's right to recommend that to people when I know of better ways to get started (Wealthy Affiliate).
With regards to Home Cashflow Shortcut specifically, what I do have issues with is the sometimes contradictory messages I saw on the sales page, which on one hand give you a disclaimer that it isn't a get rich quick scheme (which is honest), but on the other (if you watch the video) makes it seem like it could be. 
This is why despite Home Cashflow Shortcut literally being a redirect into Super Affiliate Network and that program getting a pretty decent score, I am rating the other one lower.
If anything, joining Super Affiliate Network directly would be better because it's more upfront.
My final thoughts:
The honest truth about affiliate marketing is that it is indeed NOT a get rich scheme. I believe if you get started with it, while you have potential to make it work (and I personally did), you will need to really work hard and spend a lot of time on it. 
This is something that will be true whether you join Super Affiliate Network or whether you join Wealthy Affiliate and kudos to Home Cashflow Shortcut for adding that disclaimer in.
The big difference however, is that with Wealthy Affiliate, I guarantee you that you will spend far less and likely learn far more, and because I have experiences with both programs and know about affiliate marketing very well, I can say that with confidence.
Learn more about Wealthy Affiliate here and it is free to try with an upsell later on that is only $49 a month (no $1,000+ high ticket stuff).
Thanks for reading my review of Home Cashflow Shortcut.
Home Cashflow Shortcut
$37 and later upsells
Pros
Testimonials appear legitimate.
Leads into Super Affiliate Network and that program is alright in my opinion.
Cons
I didn't really like the "mixed messages" I felt were on the sales page of this program.
Super Affiliate Network does have very expensive upsells later on it's membership to be aware of.