Fightback Network is a program that tries to "counter" policies search engines institute to punish backlinking practices and while that sounds like a great idea, let me explain, in this review why using this type of program may not deliver the type of results you want.
Quick Report on Fightback Network:

Price: $19/month (Starter) & $47/month (Pro).
Overall Rating: 

3 out of 10 stars.
I purchased the starter access to Fightback Network to understand how they operate.
What I originally thought was just another backlink scheme turned out to be much more and I do believe you can get high rankings with this approach, but in spite of that, the strategies they use may also land websites in hot water with Google.
Fightback Network (FBN)  in a nutshell:
Some may consider FBN to be a PBN (private blog network) and in some cases it is like that, but in reality it's more of a blog network where you associate and connect with bloggers that have similar niches & websites and exchange links with them. The whole network is broken down into 2 sections:
The forum. I made a log in but it didn't work, but you can get support there as well as videos on how to use FBN.
The actual members area. This is where you can provide a link to your website, then connect with other networks and have backlinks get exchanged. 
As a member of FBN, you can both join an already provided network from a list (which you can filter) and/or create your own and get people to join it, either from the forum or anyone who is also a member and sees it on the list. 
What makes Fightback Network unique:
What I do like is that you can't just find and join any network that is shown there. There is a criteria to be met before you can do this. This is good as it does help filter out websites that aren't very high quality. Some specifications include that your site have:
A specific page rank (I saw a lot of PR3 or higher requirements)

The site must not have been "banned" by Google meaning slapped/blacklisted.
As someone who searches for a network/s, you can provide details on what you want:
The niche.

The amount of members/sites in the network. 

The page rank of the network.

And more.
I did notice that with the parameters I set, that I wasn't always provided a network/s to choose. Sometimes it was empty so if you get too specific, this may happen.
So what exactly happens next? Well 1 of 2 things (perhaps both).
1) Say you find and join a network with for example, 100 sites. What I believe happens here is that because all of these sites are together, they can provide links to another and help each other gain higher rankings in general.
2) But more specifically as FBN explains, you're actually writing going to write articles for the network then leave a link back to your site. It's very much related to article marketing which if this is the case makes FBN look more like a content farm than a PBN. 
The idea itself isn't new, but the execution of it at least through FBN's approach is pretty unique.
Why it can be risky:
I absolutely avoid and hate backlinking of pretty much any kind because so much of it is done to try and artificially boost rankings and honestly, in spite of all the attempts to make FBN's approach unique and high quality in terms of the links you get, I still see it as a way to try and game the system. 
The very name Fightback Network is a place where like minded people who still believe in backlinking to be a good way to SEO connect with each other. It almost feels like a union. 
Another thing I noticed which I didn't like is that when you try to look at the networks that are available to join, none of the ones I saw mentioned they use unique content. Does that mean some content is duplicated or spun? If so, then that's a BIG red flag:
Another reason I assume there may be spun content involved is based on this paragraph I read on FBN's sales page: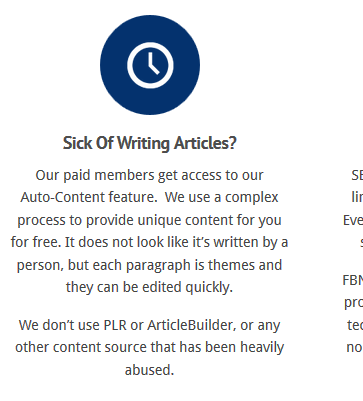 The term auto content is what stood out to me here. It really sounds like they may use some sort of content spinner. 
And if that's the case, then what happens if Google spots this and ranks it low? What happens to the site's this is linked to which in this case will be your websites? I don't like the though of this, but I doubt it'll be good. 
Am I theorizing on what may happen?
Sure, but after seeing all the Google updates go through and seeing how they constantly target websites which do the sort of stuff I just listed and it being bad, what are the odds this place and it's strategies won't have the same results? 
It's basically more black hat methods being used in an arena where it's basically banned.
Pros:
There is good connection to high PR sites and you can get high rankings.

You can create and join your own network.

Good support in the forum for members. 

Options to filter out what sort of niche sites you want to connect with is available.
Cons:
Backlinking like this is risky in my opinion. It falls into a grey area of SEO which I personally avoid.

Content spinning possible which makes the websites and content that is created low quality and likely to be slapped.

A lot of backlinks coming in to your site very quickly can arouse suspicion in search engines. 
Final Rating: Fightback Network

Yellow Flag (Be very cautious)
3 out of 10 stars. Originally I gave it 4 stars, but removed one because the risks posed by FBN's strategy are too big to ignore. They say they are providing approaches to avoid the Google slap, but I feel it's a matter of time before it happens.
Would I use FBN? Here are my final thoughts:
No I would not use it for the risks I pointed out above. If I have a website which has good authority in search engines, I would never risk using FBN's SEO strategy on it. Programs like FBN are trying to re-invent the same system that Google does not like. This is why I stick to practicing things programs like Wealthy Affiliate teach me about rankings and backlinking is really not a major part of that practice.
Update: What's inside the forum.
When I wrote this review yesterday, I couldn't get access to the forum because apparently my membership there was going through some validation type phase.
About 24 hours after signing up with FBN, I finally received confirmation with access to the forum. Other than what I said earlier about getting support, here is a quick overview of what you get:

New members start here: It's really the only thing you need. It provides you with an index of how to use FBN and links including a PDF which is 5 pages long and explains how to use the system. I read the guide and inside it they talked about taking the "auto-content" I talked about earlier and re-editing it to look unique. 
This doesn't change my opinion of this being risky to begin with at all. I still think this is a bad way to do SEO. Other things inside include strategies and tips to maximize your networking to get the most out of it.
Announcements: just provides a list of the newest forum posts.
FBN rules: It's just what it sounds like. 
What's new:  Just shows the newest posts out there.
Your FBN Dashboard: Takes you to log into your network area which I talked about.
Affiliates: Shows you how to promote FBN to others. I won't be doing that.
Overall my opinion of FBN remains the same. If you focus on making your own unique content and don't focus on any sort of backlink scheming, you'll be fine when it comes to SEO.