There is no doubt in my mind that Direct Online Income is a scam and there's a lot of reasons why I say this. Read this report and I believe you'll see it too.
Quick Report on Direct Online Income:
Price: Either, $4.95 or $97 (Plus up-sells).
Final Rating: 0 out of 10 stars (Red Flag, scam)
If you've been following my blog for sometime, you already know just how many scams I've exposed that are like Direct Online Income.
If not, then what you need to know is that this place is yet another example of a copycat program that promises you a lot of money for supposedly very little. 
Most of the time, when I spot scams like Direct Online Income, they are usually through sites like these (the work at home special report scam sites): 
In the past, I've warned people about sites like these that always portray a work at home mom supposedly making tons of money. It is through these types of sites that I usually find the next scam. 
It also just so happens that these same sites often switch up the name of the programs being advertised but keep everything else the exact same thing.
So maybe today I'll see Direct Online Income advertised there while some other time it could be another program that I've already reviewed and put on this list of work at home sites I've found. But it doesn't matter because by default I automatically label almost any program I see on these sites a scam. 
However, for the benefit of the doubt, I went on and clicked the link on the above site to see where it would take me. Often times the site these pages link to is not the same as the one being advertised. In this case, the place I was directed was called Earn at Home Club. Here is a screenshot: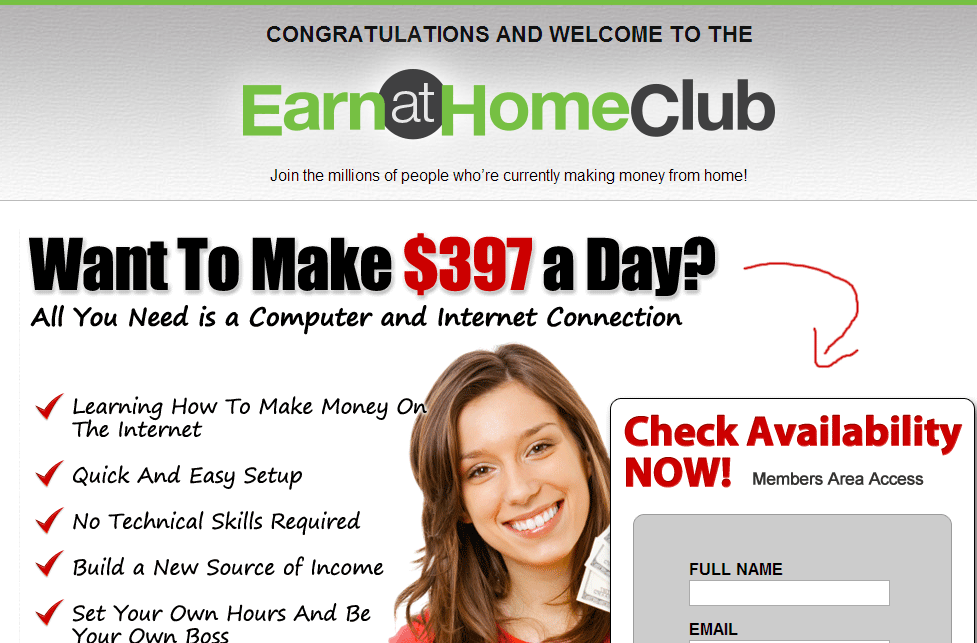 Most of the time people become confused when they see different names of programs and assume they are not related. I do not believe that is the case here. As I said before, the programs I review which I find on the above websites often change their names and this also includes linking to other sites like Earn at Home Club. 
One thing I want to point out is that in the past when I've reviewed sites which I was directed to from the Direct Online Income page, I would always be linked to a site which looks like this: 
Obviously this image and the one I put up above are not the same. So for a second I though this time around I may actually be reviewing a legitimate program (On a side note, here's 7 legit affiliate marketing programs). Well I signed up (Earn at Home Club page) and went on to see what was up. 
The bad new is that it's a scam and the good news? Well I guess if you're reading this now and you were considering buying this program, I may have just saved you a lot of money.
What you need to know about the Direct Online Income scam:
1) Direct Online Income links me to Earn at Home Club. Thus we can assume these 2 programs are associated with one another. Like I said before, the program most likely changed names like these scams are notorious for.
2) Inside the Earn at Home Club website, you are advertised some internet package for a "low" price of $4.95. They also give you a 5 minute timer to act before it's "Too late". I never fall for this and you should never either!
3) This $4.95 cost is probably just the start of what will probably be monthly charges and even more potential up-sells once you buy. How do I know? 
A) I've seen this tactic used before. Charge an extremely low price. Get people in and then spring surprise charges/up-sells on them. 
B) They even mention it in their terms of service (I've outlined the most important details):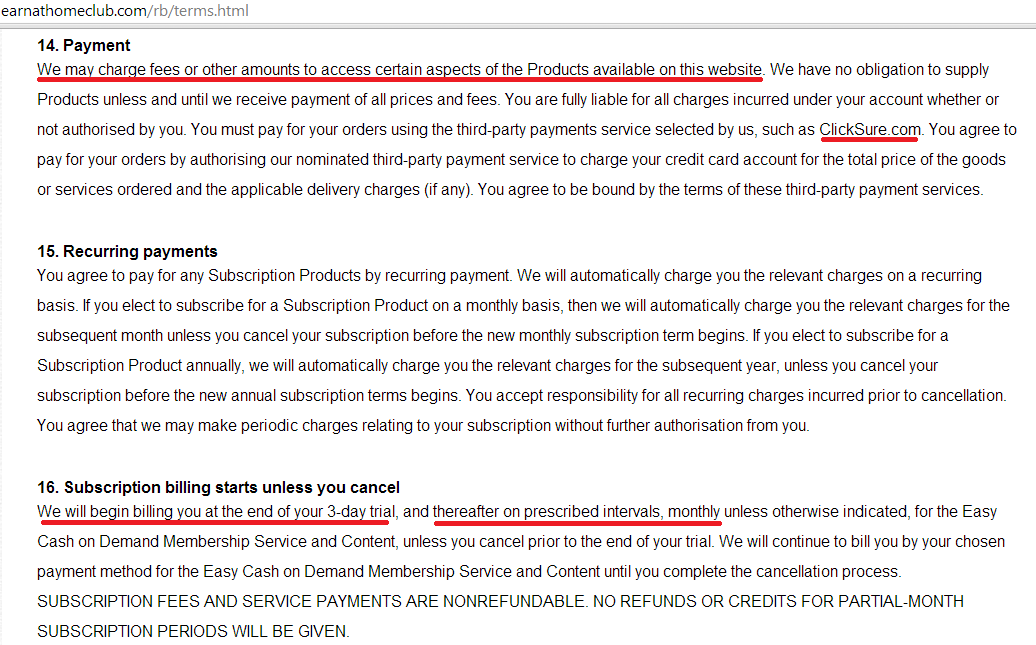 In case you skipped this part, you're going to be billed a monthly fee after 3 days which is what they call your trial. But guess what? No where on the Earn at Home Club "membership" page is this 3 day trial ever mentioned. It just says order now for $4.95. 
And they do a good job of hiding their terms of service at the very bottom of their website where most people will never venture into (unless they're me). 
4) Sales calls very likely. I see this occur VERY often with these programs. They always like to sugar coat under the words of consultation, 1 on 1 guidance, internet marketing coach and well you get the point.
But these are just fronts for hard selling sales calls you'll likely have to endure if you purchase the product. These sales calls will probably try to get you to buy some super systems or coaching advice which can run you up to $1,000's (no joke). Here is how they decorated it here: 

5. It's associated with Clicksure. This is a digital marketplace where unfortunately most scams like this one run rampant. Clicksure has a bad rep for this. The site itself is not a scam, but the way it operates and allows for scams like these to even advertise with them is what gives them a bad name.
With all these things to expect, why would anyone want to join this place? You need something you can trust and the only thing I can recommend without a doubt that works is my #1 recommendation, Wealthy Affiliate:
Pros:
There's never any with these programs.
Cons:
Just another scam site promising easy money.

Direct Online Income is advertised on sites that are notoriously promoting scams.

Hidden costs and trials not mentioned until you dig deep into the site.
Final Rating: Direct Online Income
0 stars
Red Flag (Scam)
0 out of 10 stars. No way no how am I EVER going to recommend this. Not Direct Online Income, not Earn at Home Club, nor anything like it. If you want to see a legitimate way to earn online, Wealthy Affiliate is my #1 recommendation.
My final thoughts:
This time around, I believe the copycat scams are changing their game up. Before they used to advertise under the same look alike sites, just with different names.
Now with Direct Online Income going to a page like Earn at Home Club and that looking different than the other ones I'm used to, I believe the people behind these scams are starting to get desperate because they know people are catching on and it is imperative that more and more people be made aware of place like these.
Please never fall for this get rich quick scheme mentality. So much money has been lost by following this belief. It takes work to make money online and if you have the proper guidance and put the effort into making it happen, you can see amazing results. I've been personally doing it for 9 years (full time) and Wealthy Affiliate is the only program which I trust 100%.
If you have a personal review of Direct Online Income or whatever new alias it's under and would like to share it, I'd love to hear your story!