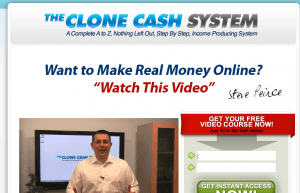 Clone Cash System surprised me in many good ways when I got it and in this review, I'll explain what is good about it, but at the same time why I don't recommend it.
Quick Report on Clone Cash System:
Name: Clone Cash System by Steve Pierce.
Price: Free to join (Surprisingly!).
Overall Rating:

4 out of 10 stars. 
There's a lot of great free training to check out and you can get started with it, but some of it is outdated and that's why I couldn't back it up completely).
Before I first landed on Clone Cash System's website, I had to go through 2 opt-in forms which made me feel like I was about to review a scam.
But as I entered into the member's area, it really did turn out to be free and I was very impressed with much of the content that was provided. However, not all of it was up to date and I'd like to explain for anyone interested in getting started with online marketing the good and bad parts about this system.
Clone Cash System in a nutshell:
It's a free 20 lesson course that provides you with the initial start up to making your own affiliate website and compared to what I know and achieved in affiliate marketing, I agree with a lot of what I saw in this program.
You learn from the very beginning what it takes to make a successful website, starting from choosing a niche product, to keyword selection, making a website and getting visitors to it. Here's a free tutorial I wrote on this that doesn't require any signups.
I was very impressed by the amount of content provided for free.
It very much reminded me of the Starter Membership provided from my #1 recommendation, Wealthy Affiliate which is a very good thing considering that up until now that and Clone Cash System are really the only places where I've seen so much information offered for just an email and in all honesty, nothing on your part.
This is something that is very much missing in today's world of online marketing as most people seek to up-sell you right there and then. By providing a lot of content and information, it's easy to gain trust. 
I'll walk you through the 20 lessons in a moment, but I'd like to mention that Steve Pierce after the 20 lessons offers an optional sign up to his Income Elite Team for $4.95 for a 7 day trial (then $97/month). I had no problems signing up, especially after all the free stuff I received that was of value (this is how you properly sell to people!).
Unfortunately there appears to be no way to access the training. I doubt that means it's scam. More likely the site is down or going through some update. I'll give it a few days and contact the owner.
Right now when I try to access Income Elite Team, all I get is a "Oops, the sign up form is not working". I guess I have to sign up again somewhere to gain access, but that gateway is closed down. If I get access eventually, I'll do a separate review of the program. 
Looking at 5 of the 20 free lessons of Clone Cash System & what you get:
Each lesson is a video. Overall, I'd say you get about 2-3 hours worth of content to watch and learn about online marketing. The basic summary of all the lessons is that:
1. You find a niche product and niche audience. Here's a great explanation of this.
2. You create a website and get hosting for it.
3. You are taught how to set up the website.
4. You learn about picking keywords to having your website get ranked for the niche product.
5. You learn about ways to get visitors to your site quickly via forum posting, article writing, backlinking, using pingomatic and other backlinking services. 
Some of the videos are very brief (a few min) while others span well over 10-20. Also Steve does promote a hosting service he says he uses.
I suppose he's got to try and make money through the free offer, but keep in mind, it's still optional and if you already have your own site or hosting, you won't need this.
In fact, the same starter membership I mentioned above at Wealthy Affiliate not only offers you better training overall than Steve's, but they also provide you with 2 websites for free. 
The good and the bad of Clone Cash System's lessons:
The good part about Steve's training is that for the most part, it is very solid and really does explain the right ways to start and online business, from choosing a niche, to the product, to making the website and even details on setting it up. My hat is off to Steve for doing such a great job with these videos.
There is more than enough information to get started with and potentially be successful.
Now the bad part is that in my opinion a bunch of them are very outdated, especially the parts about pingomatic and backlinking through forum posts and such. These methods still work, but to a short extent. 
Although Steve explains how you should use these methods in a non spam like way, it still won't make the end result that much better. Just in case you're wondering about these methods:
Pingomatic is a service that lets search engines know about your site and helps your pages get indexed on places like Google.
Backlinking on forums is a process of joining forums within your niche, posting questions or offering value and leaving a link back to your site to get visits.
There's also backlinking services recommended that send backlinks from other sites to your website giving you "link juice" and supposedly a better authority within search engines.
Now most of these methods, especially the third one are pretty useless nowadays and I feel like the videos Steve made were done several years back and over the course of that many years, these same things are not very applicable. If Steve were to update his videos, I'll be more than happy to give this program a thumbs up.
But for now, I'll leave it the borderline section.
Final Rating: Clone Cash System

Yellow Flag (Legit program, but outdated).
4 out of 10 stars. VERY close to being rated a green flag, but only once the training gets updated. The outdated training is what makes seeing the results of the training more difficult to get in my opinion. In the meantime, Wealthy Affiliate and these other affiliate training programs like it are recommended.
My final thoughts:
Clone Cash System is one of those borderline programs I'd love to recommend, but as long as the training is outdated in certain areas which can have very long lasting impact on people's businesses, I just can't do it right now. I'll contact Steve (if he's available) and let him know about this. 
But overall, he did a great job and with all the free stuff he offers, a lot of it is indeed great content. Now I still recommend the alternative of Wealthy Affiliate as it offers more than Steve's training does, plus the other things I mentioned. In my opinion, if you're new to this business, this would really get you going on the right foot.