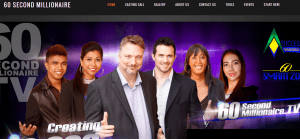 Quick Report:
Name: 60 Second Millionaire TV System (or Secret). Also known as 60 SMS by Tracy Davison.
Price: $3/month to be a part of the system and an addition $7/month to be eligible to be paid.
Also an offer (Success Insurance) to use their referral system called Pinoy Recruiters is apparently required which can cost different amounts (Their video sales $160, but the checkout cart says $100). If you can't pay that, you can become an agent for his Pinoy Recruiters and earn $5 commissions for each person you recruit to then use to pay for the There is also a "God Sponsor" challenge I didn't really understand…
Overall Rating: 1 out of 10 stars (scam). I have a lot of thoughts and opinions on this "T.V Show" I'm going to share and most of them aren't positive…
I found this T.V show while doing some research online and it says it'll air in the Fall of 2015. The show is created by a supposed philanthropist called Tracy Davison and on his site, his goals for this world is apparently to help people in the Philippines with poverty, hunger and other major world issues. 
Seeing Tracy for the first time and those goals, he sure sounds like a great guy, but looking further into this program and the T.V Show, more and more information began to come out which made me question Tracy, because his reputation isn't the best in my opinion.
Note: For anyone who reads this article and thinks it's about binary options, it isn't. There is another program out there that's also apparently called 60 Second Millionaire, but it's completely unrelated.
60 Second Millionaire in a nutshell:
It's an MLM program behind the cloak of a T.V. Show that's apparently going to be airing in the Philippines. I have not seen any indication that this is going to be shown in the U.S, UK or other countries, but we'll see what happens in the Fall of this year (if anything). 
On the main website there is an option to audition. I spoke with the chat which is available on the site and they said you can only become a member of the show if you are accepted from your audition which you send in. Once you are, then you have to go through the training in which you'll be recruiting as many people as possible to join under you and others under them, building a network and being paid.
The 60 SMS Compensation Plan:
The MLM program itself functions on a compensation plan that is a 2×20 matrix which pays you for every second level. So if we have 20 boxes, you get paid every 2nd, 4th, 6th…and up until 20. With each level, you can fill up more and more members: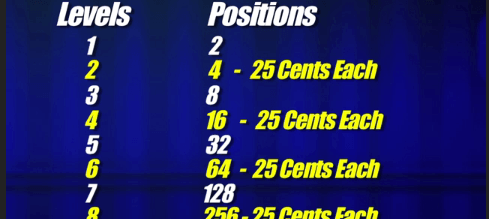 This screenshot only shows up until level 8 with 256 members, but when (if) you reach level 20, there's over 1,000,000 spots to fill in that level. 
For every referral you get, you get paid $0.25 every month and by filling up levels, you get paid for all accumulated levels meaning if I filled up levels 2 and 4 for which in total there are 20 positions, I'd be making $5 a month (woo hoo…).
An additional way you can make money if from your referrals success. This is a second type level where you get matched bonuses for the profits from your down line. With these comp plans, I always have restraints on whether I'm right or not, but based on what the video said, an example of this is…
If you have 1 referral under you who makes $100/month and under that person, there's 2 more people who each make $500/month, every single month they get paid, apparently, you get a matching bonus from all of them combined meaning $1,100 for you.
The training from 60 SMS:
What's weird to me is that you have to audition first before joining, but if you go to the site and hit the "tools" menu, there's 11 sections of training you can go through and that covers the entire program. The videos altogether span for many hours. 
You can access this anytime to get an idea of what you can expect to learn, but the impression of an audition in my personal view is that you get to connect 1 on 1 with the pros and they help you through this. I don't think that happens here…
Which brings me to an important opinion I've come to:
I think the whole audition and T.V. Show is a farce. With MLM programs, they want as MANY people to get in on it so they can make as much money as possible.
I don't believe for a second that they have a 10,000 limit for auditions! Having an audition is possibly just a psychological selling tool and within the training, I saw how Tracy was talking about approaching people with the offer to join 60 SMS which included a lot of reverse psychology.
He also talks about approaching the closest members in your circle with this. If I've learned anything about selling, it's that you NEVER want to include the closest people in your circle. Damaged relationships can ensue…
I looked into Tracy's history. He has an "interesting reputation":
You may be thinking I'm being very hard on Tracy and 60 SMS, but I have my reasons, not just because it's an MLM program being covered here, but also because of what I learned about Tracy. 
This man has apparently been involved with a number of other organizations in the past and out of all of them, the one which rang louder than all of them was Zeek Rewards (why it was a horrible scam). 
Tracy had a huge list of people he referred there (over 200,000) and when it went down, he moved them to another program he was associated with. Some people speculate him moving to the Philippines was a option to get away from legal matters to pay back the money from the already dead ponzi scheme that was Zeek Rewards. 
Who knows? Whether or not he moved for those reasons isn't what bothers me, it's that I have never seen Tracy admit to making a mistake or bad about promoting Zeek Rewards. 
And that's the one company I know a lot about, what about the others he was part of before 60 SMS came around? If you know, then help me fill in the history gap here.
Final Rating: 60 Second Millionaire TV and the program.
Red Flag (Scam)
1 out of 10 stars. Never mind if there is actually a T.V show, the MLM is what counts and I call these types of MLM programs pyramid schemes.
My final thoughts:
There is no MLM program I would ever join or recommend. Even the best ones are difficult to make money with without experience. What I do to make money online is different than MLM, but I think it's way better.
Tracy's philanthropy image in my opinion is covering what I believe to be exploitation of people in third world countries even though you are allowed to join from any country, the Philippines is where this program appears to be marketed most. It's unfortunately very easy to pull in people when you say you can show them how to make easy money.
He may make 10,000 new millionaires, but if I'm right about there not even being a limit to memberships, there's going to be in my opinion many more 0's to the amount of people who get poorer trying to spend time and money on this program.