Quick Report:
Name: Making Sense of Affiliate Marketing by Michelle Schroeder Gardner. 
Price: One time $197 or $105 a month, for just 2 months ($210 total).
Overall Rating:

7 out of 10 stars

.
This is an excellent beginner level program for people in or entering the field of affiliate marketing. The guide on Pinterest this program provides is particularly good.
Recommended? Yes, here is the link to Michelle's site, but I have a better recommendation:
But whichever program you decide to try, let me say both are great, so you win anyway. And now, let me cover more information about Michelle's program:
What is Making Sense of Affiliate Marketing all about?
This is a beginner course for affiliate marketers (here is my explanation of it), particularly those who are in the business of blogging. You learn to grow the existing (or new) blog and monetize it.
So if you have a blog that isn't making money, this course is going to help you, and there are a bunch of reviews out there which have shown their income stats rise from Michelle's course. 
And if you're completely new, there is training for that too, all the way from the beginning where you choose a niche (want to see 100?) and go from there. 
The tactics to get traffic to your blog in the course revolve around SEO and Pinterest marketing, and they are pretty basic things, which is not really bad considering that I for example still follow very basic things on my blog to keep it growing and making money, so just because its basic, doesn't mean it's bad. It's really the basic steps to blogging which make it successful.  
Note: I do want to disclose that I haven't purchased Michelle's program, but I've seen a bunch of sites showing and talking about the training and being a FULL time blogger myself (you can see my monthly reports here), I can see immediately that what Michelle teaches works because I happen to use a lot of her strategies too, so:
1) What Michelle shows is legit.
2) I know this business very well and make a healthy income from it.

Pros:
-Michelle provides a public Facebook group which has very positive feedback. Lots of members help each other out there, including Michelle who is also said to be active there.
-Michelle herself is a big time blogger who (as far I know) applies the same strategies to her personal blog as she teaches in her course.
-Good, positive reviews can be found across the internet about Michelle's program and there are those who report to seeing income grow on their blogs after applying Michelle's strategies like I said before.
-Overall, Michelle's course is GREAT for beginners.
-The Pinterest course she also adds to the training has VERY positive feedback.
Cons:
-Because there's basic training for affiliate marketing, this kind of info can be found in multiple other programs that aren't as expensive. For example, this program provides great training in the same exact field so if you don't have around $200 to invest in Michelle's program, I'd start with that other program, as it's free and will teach you the same things Michelle's course will.
Final Rating: Making Sense of Affiliate Marketing.

Green Flag
7 out of 10 stars. Bloggers who need to raise their revenue, traffic and grow their income through affiliate marketing cannot go wrong with Michelle's course, it's legit. However, the info isn't as unique as it seems. The Pinterest guide in Michelle's course though is what gets the best reviews. 
My final thoughts: More info on the cheaper, yet similar course I talked about.
As I said before, I am an active blogger myself, and my success in this field has come from studying similar stuff Michelle teaches, except I didn't learn it from her program, I learned it from another one called Wealthy Affiliate.
Now while there is really only 1 big con to consider in Michelle's program, that being the price, if you have a tight budget, I'd honestly recommend you learn the same stuff from Wealthy Affiliate. In fact, there are numerous programs which teach the same things Michelle does, however, the likelihood that you'd find a legit program out of this field is rare. But at least you now have 2 programs to choose from.
Now I have to say, in examining Michelle's program and comparing it to Wealthy Affiliate, I personally believe the latter program holds far more benefits, despite the fact that I still recommend Michelle's program if you're into blogging. Let me explain: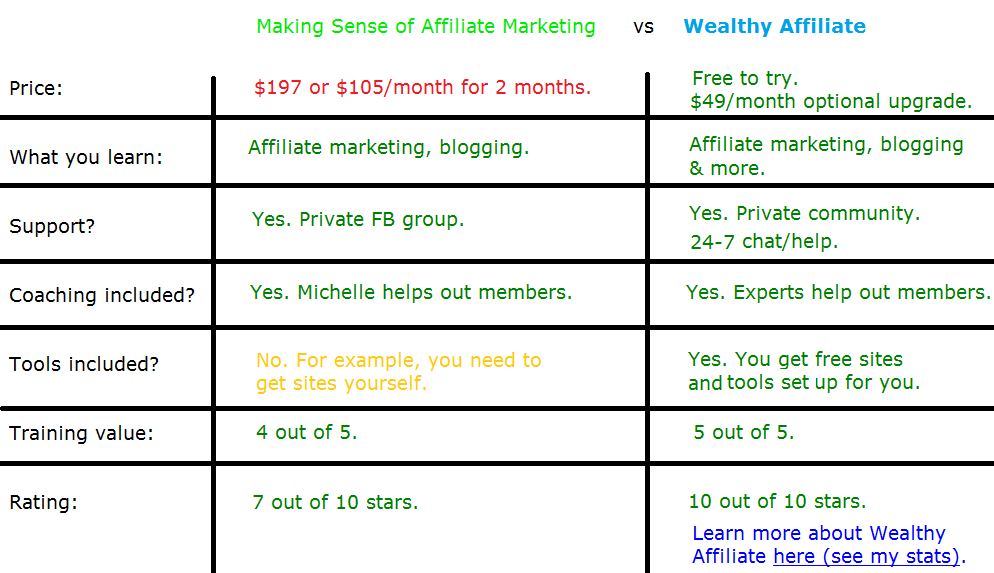 That comparison really shows the benefits and differences of both programs, but as you can see, there are 2 particular moments in which the program I recommend instead has massive advantages, 1 being the price (free to try) and 2 being the tools offered within it (sites, support, help, ect…).
Now I know you may have heard a lot of good things about Michelle's program are on the fence about joining it or the other recommendation. Like I said before, I have an overwhelmingly good viewpoint of her program and it's highly recommended like I said before. Again, here's a link to it.
Will her program help you grow a new/existing blog IF you apply the training? Absolutely.

Will she provide good help and support if you have questions, including her community? Absolutely.

Will the other program I recommend provide the same kind of training and support? Absolutely. 
Now there's one other advantage I wish to mention:
More quality training beyond blogging in my recommendation:
The 2 main components of Michelle's program revolve around blogging through SEO and Pinterest. 
In WA, you do get that. The main training course actually goes into SEO and blogging, but there are additional courses including Pinterest marketing.
However, there is additional high quality training that goes beyond that in WA, which you would not get in Michelle's program. For example:
–Wealthy Affiliate offers weekly webinars in just about any kind of other marketing field.
-It also offers training on paid advertising.
These are important things to have as it's the next level after your blogging efforts become successful. Believe me, once I started doing well with my blogging efforts, the next step was to advance into paid marketing to scale those profits and once you're ready to do that, you first need actual training on that and second, that training needs to be very good. You will get that in WA.