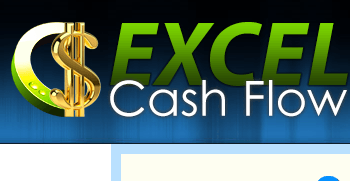 It's really clever how the scam which is Excel Cash Flow tries to piggyback off names like "Excel" but I know better about how it really works which this review will carefully explain.
Quick Report on Excel Cash Flow:
Creator: Debbie Jones or Cami White, both fake personas.
Price: $97 with possible up-sells and "optional" coaching which is what I fear most…
Overall Rating:

0 out of 10 stars.

 
Oh how I've missed reviewing these scams (not):
Excel Cash Flow in a nutshell:
I called this a duplicate scam because sites like Excel Cash Flow are "overflowing" on the internet and constantly making their sales pages look exactly the same.
Many of these sites are also known for changing names of their "programs" but still having the same page, so you'll often run into look alike sites, but different names for them which is still the same scam.
I'm so annoyed this is still going on:
I don't even need to read the name anymore since I'm so familiar with the site outline which by the way looks like this (Memorize it because if you ever see a site like it, be careful):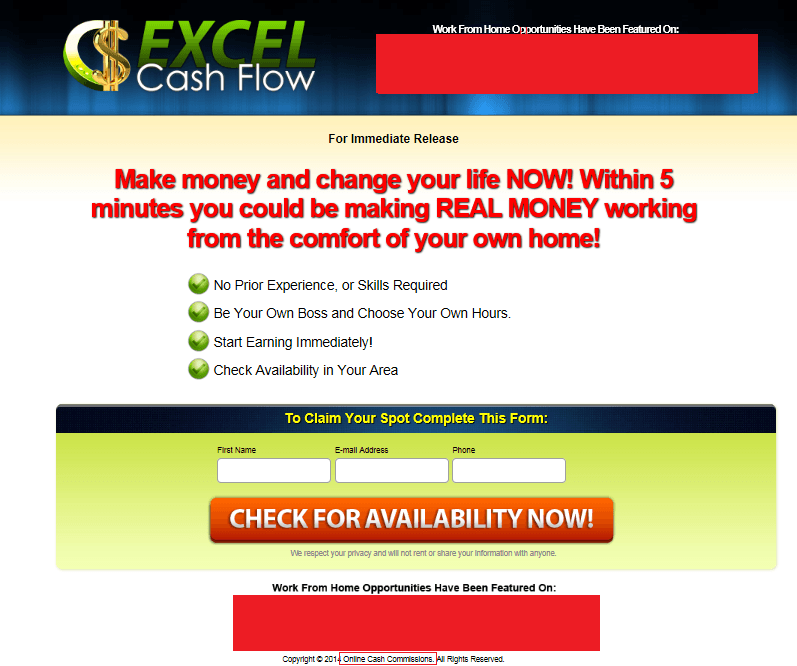 And what comes after you sign up is nearly always going to be a pitch about how easily you can make money online posting links. There is always a story about a woman who lost her job, got divorced and so on and so forth. Basically I can fill in the blanks by now because I've read this exact same message so many times before, including on other sites called Work at Home Special Report pages that also show these fake names and stories.
The image I believe is taken from a legitimate website, but in my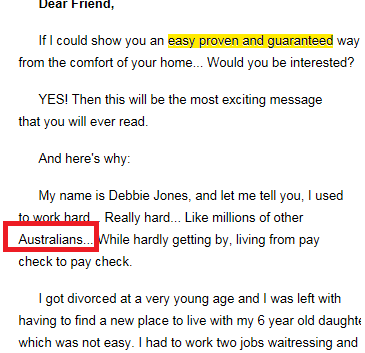 opinion (prove me wrong, please) the picture is NOT of Debbie Jones.
I've never run into a duplicate site scam where the people behind the site put up their real pictures. They always hide behind fake names and pictures a lot of people will mistake for actually being them. 
Also for some reason there is a mention of Australia:
Not sure if they are targeting a specific location, but generally you'll find these scams being promoted world wide and mostly in English speaking countries.
What else is there to say?
A lot of the information you'll find on this program does not bear repeating since I've basically said the same thing so many times before. So what I've done is put up a list of these work at home scam sites so you can see if a program you've spotted (like Excel Cash Flow) is on it. 
If it is, stay away from it. And I can also tell you that even there are a lot of names there, it's still very small compared to just how many untrustworthy places there are out there. 
And besides, if it's already a scam, what more do you really need to know? I think most people would prefer knowing what they can really trust & what works, so that being said, this, the Wealthy Affiliate program is the one I believe in 100%. 
Funny question: Does it actually have

anything

 to do with Excel? 
I doubt it.
I just think the people behind the sites are running out of catchy names to use and since SO many of them already sound alike, with a few words mixed around here and there, to avoid suspicion, I guess they decided to name it something completely different. And this has been repeating itself for many years.
A skeptics question: Well you didn't buy it, so how do you know this is a scam? 
I know because I on the previous reviews on programs like it I've done, every single response has been negative (or positive because it proves my position) and because I know key tricks scam sites use (promise of easy money is their greatest weapon), it becomes easy. And it's not just easy money promises, it's also fake images, fake names and a lot of other things I could point to. I get it wrong sometimes, but this isn't one of those times.
What's really terrible is that half the work is done for these programs because the people who want instant riches WANT to believe this is real. All that sites like this one have to do is make that promise and that's how they sell so well.
What about that coaching?
You may have noticed I mentioned the word "fear" when I started this review. With these scam sites, personal coaching is also a common tactic they use to try and get you into the program. It gives you the impression that you're going to get professional help. Or as they put it:
What I have heard more than once is that instead of that, you're asked to pay for this, and a lot! Now I always reserve judgement in this area because I don't know if it'll happen with Excel Cash Flow and it may very likely NOT, but just know it is possible and words like personal coaching with these scam type sites usually don't mean what you think they do, at least not for a cheap price! However, these are places where you can get legit coaching, and here is at least one place to get coaching.
Final Rating: Excel Cash Flow
0 Stars 
Red Flag (Scam)
0 out of 10 stars. There is no reason to even give this program a single star.
My final thoughts:
I hope anyone who looks up information on Excel Cash Flow finds this article. I've been trying to find all of these scams before they get out of control (too popular that is), but it's not an easy job…
It's been a very long time (November of 2014!) since I've bumped into a duplicate scam site like it too. I think the reason I haven't seen them around for so long was because they've "gone into hiding" or have just done a better job of staying out my "ever watchful gaze".
And I think one of the reasons they've done that was because I did a video on YouTube where I expose sites like that and warn people what to stay away from. Maybe I'm giving myself too much credit, but I did notice a decline since that video was up. It could also just be a coincidence.
Yet because these scams sites have been known to work so well on people, it's only a matter of time before one pops up here and there. Remember, memorize what the site looks like and be careful online with these places.
Update 10/21/15:
Looks like this program has been renamed "Cash From Home". I found out by doing a Google search for "Excel Cash Flow", finding 3 particular domains that point to a secondary site "reviewing" this program, then when you click through to the next page, it takes me to Cash From Home which has the same layout:
If you need a comparison, just look at the image at the top of this article vs this one. 
There's too many bad programs out there, don't let yourself be fooled, try one that's fully legit such as Wealthy Affiliate. 
And about Excel Cash Flow or whatever they'll change the name to eventually, forget about them and just move on. No need to waste time on these programs.