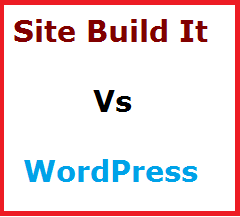 Although it's a very general question, I have divided up the subject of SBI (Site Build it) vs WordPress into several categories. They cover everything from simplicity to which one is better in terms of price, SEO, ect… Both platforms are very popular but if you're looking to start with one or the other, this comparison should help you make a clear decision.
First a little background on each platform…
Site Build it: SBI has a lot of history behind it. It's been around for years and offered people looking to build online businesses an all in one type approach where you could get a website (HTML), hosting, programming, keyword tools and training to build your business. Basically a consolidated solution. 
At a price of about $30 a month and several $100 a year for all this, SBI "was" worth the investment. But then came WordPress…
WordPress (WP): It is a website building platform designed for newbies. While there are many places where you could build WP sites through, the ability to customize a website through this platform is almost endless. In addition in recent years, WP websites have seen better SERP (SEO) results in search engines because they offer a very simple way to create fast and easy content. 
The Categories:
The actual process of building a website. Which is simpler/faster? WordPress.
Although I've never used SBI, before WP became popular, I made HTML websites. I did also thoroughly look through SBI's web creation process. While SBI does make HTML website creation MUCH easier than doing it the manual way, WordPress in my opinion is far superior because of it's simplicity. 
I will note that when I first started using WP, I did have some troubleshooting issues, but as time passed and I gained experience, it became a walk in the park. Creating pages/posts, widgets, linking and all the necessities of making a good looking website is just much easier through WP. If you're a complete beginner to creating websites, I would recommend this tutorial where you can make a WP page in as little as a minute. 
Which has better SEO results? WordPress.
At one point in time, SBI carefully programmed their sites to satisfy search engines. SBI sites, did at one point get high rankings, but as time went on and places like Google evolved, the privilege SBI once had fell. I believe this is most likely because to some extent SBI tried to "over-optimize" their websites rather than focusing on building out great content to help people. 
It is well known that search engines like WP, and this is mainly because it's so simple to create content. Content is king in today's SEO world. 
Which websites look better? That depends on your taste.
I personally prefer WP sites as I've seen just how amazing they can look vs regular HTML sites, but this is something that is completely up to you. I once did a comparison of WP vs WiX, another website building platform.
In this category, WiX beat WP in the "initial stages", but lacked in SEO and customization areas. If you're looking to build an online business, your main focus should be to create high quality content, not make your website look pretty. 
I just personally believe it's easier to read content through WP sites as opposed to SBI websites. HTML based pages are in my opinion quickly becoming a thing of the past. 
Better Price? WordPress (in some cases).
Technically in this regard, SBI should win. Because they have the "whole" enchilada basically when it comes to creating an online business. And for the price they charge ($30 monthly), most people would say that it's the better option than paying for a domain name + hosting (About $10 a year + $5 monthly for hosting). They would be right. However…
There are now places which not only offer you the ability to create WP websites for nothing and include things like hosting along with it, but they also feature up to date training to help that site be successful, keyword research as well. Never mind the already positive SEO potential. My #1 recommendation is a great example of this. Taking this into account, WP still comes out the winner. 
Less Technicalities? WordPress.
What I mean by this category is what happens if you want to change things like hosting accounts, domain names or move your site from 1 platform to another. With WP it's pretty simple to do. You can save your information, content, pages and just upload it to a new theme.
With SBI however, I've heard that once you start using them, it is very difficult to go anywhere else without going through hoops. I could very well be wrong on this, but after doing a careful review of SBI, I doubt it. 
SBI or WordPress? My Final Thoughts: 
When I did a review of Site Build it, I mentioned that in spite of it once having potential, because of the ever evolving world of internet marketing, the model under which SBI functions is slowly losing it's potential. Yes you can still create and run successful online businesses through SBI, but I believe you could cut down on time/price if you tried the WP option instead. Just my 2 cents really. 
I have been in the business of online marketing and website creation for over 8 years. While I can't say that I am a "master" web designer, I have used both the HTML & WP platforms and have seen success in both.
At first I though HTML was better because I was so used to it, but as time went on and I began to experiment more and more with WP, I saw that it was the better/easier option. However in spite of my thumbs up towards WP, I will say that both platforms do have a learning curve and at times you may find it frustrating to work with.
But as time passes it will become easier, you can rest assured. To those who are still looking to try Site Built It!, I would still recommend what I consider the better alternative. If you're looking to build an online business, in my opinion it's better to start there.
Another reason I recommend that and not SBI is because there are other issues that I find with this program that I didn't mention above which you should be aware off. In the end the choice is yours.
Having said that, I would like to hear your thoughts on this subject. If you've used both SBI & WP sites before, was there a noticeable difference in things like: Ease, SEO results, price? Which do you prefer?