A lot of people complicate the subject of making money on the internet, so before you do anything else, let me clarify exactly what it is and how it works on this very page. Forget everything you heard, read or saw. I'm going to give you most realistic understanding of online marketing. A lot of questions will be answered for you once you finish reading this, I promise! So grab a cup of coffee and enjoy 🙂
Part I: Honest Ways To Make Money Online, The Summary!
Making money online involves finding a niche. What is a niche? Here is an example: 
Make money = Market
Make money through the internet = niche
Websites = market
How to make websites for free = niche
Relationships = Market
How to get back with your girlfriend/boyfriend = niche.
Notice how niches are much more defined and there's a specific audience in mind. With markets, there's way too many subjects. Stick to niches!
Once you have a niche, the next step involves creating a website, a blog and/or an article on the internet that attracts visitors and sells them something, whether a product or service. Ideally the more visitors you have coming to your website/blog, the more potential you have for making money.
There are website owners who have 100s and even 1000s of visitors coming each day to their site and making purchases off there which gives the site owner money. There are people making a living doing this. Some can make well into the 7 figure range.
Anyone can sell ANYTHING on the internet as a vendor (your own product) or as an affiliate (you sell a vendor's product in exchange for a commission). For example, places like Amazon.com allow for affiliates to promote any products available there which means you can make money off literally anything: Baby products, food, electronics, books, ect…
Part II: What you need to get started:
1) A website:
Buying a website and making it look great this day n age is MUCH easier than it's ever been. Whether you do/do not possess website building experience is COMPLETELY irrelevant. Anyone with little to no experience can create beautiful websites for very little cost.
New programs such as WordPress are making it VERY easy to create beautiful websites in minutes. For example, click here to learn how to build your own website in 1 minute or less (video proof).
Your best bet when starting is to create a website (domain name) ending with .com, .net or .org (in that order). It's also preferable (though not necessary) to create a website that is specifically talks about a specific subject. For example:
If you have a website that sells dog training guides, it's better to call it:
Dogtrainingguides.com and not…
JonSmithsdogtraining.com
See the difference? A visitor reads these types of things so having your domain name (website name) related to what you're selling is very important, especially if you're a first timer!
2) Adding content to your website!
This part of the online money making process is crucial. Content is basically information you put on your website relating to your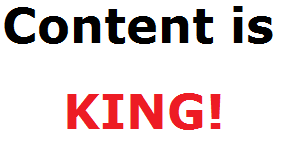 website's subject.
For example, take this website, it's main purpose is to answer the question of how to honestly make money online. Notice how the navigation is organized and written to clarify and help those who seek answers to the subject. This is in essence how your website/s should be set up too! Think of helping people first before selling to them. That is the honest way to make money online!
Let's take another example of a website that sells dog training guides. You'd want to have tons of information relating to this subject such as: dog training tips, pictures and stories talking about dogs have been trained successfully and unsuccessfully, a frequently asked questions page where dog owners can ask questions and most importantly a page which sells a dog training guide (whether your own or someone else's where you're the affiliate).
Making good content is more than just writing up information to "fill up site". It's about helping people get the answers to their questions and not just selling them right off the bat.
Also one thing I want to mention before we move forward is keywords. Keywords are anything people type into Google and other search engines when they want to find something. If you build a website that shows up when people type in certain keywords, you will get a lot of traffic. For a full tutorial on how to find profitable keywords, click here.
Content is really the most important thing, but keywords also play a very important role. Ideally, you want to have both!
3)  Getting traffic (visitors) to your site!
Major perk of writing up good content: Search engines LOVE it when a site has good content on it and helps people. They reward you for this by having your website rank high in it's search queries so when people type things like "How to train a dog to bark" or "dog training guides", your site has a very good chance of showing up in their results, which means your site will get traffic/visitors!
Most importantly if your site has good content, that's a 1 way ticket to high trafficville. You can also do things such as:
Create videos on youtube about your site's subject and attract visitors that way.
Use advertisements such as Adwords, Microsoft Adcenter (Bing) to create ads that link to your site.
Get your website ranked high for keywords related to your site's subject which actually comes from writing up good helpful content on your website!
In the end, website content is king when it comes to getting traffic. And that is what you want to focus on. If your site is on something other than dog training guides, write about the specific subject it's focused on. Make sure the site helps people! This will keep them on the site, gain their trust and then make you money which is what the last part is all about!
4) How all of the above will make you money!
Your website will not only be offering people good content to help them with their problem, but it will also be recommending a product to further aid them. And guess what? That product is going to an affiliate product from which you get commissions from!
Remember how I mentioned that places like Amazon.com have tons of products to choose from as an affiliate to promote? Well one of the products could be a dog training manual. Amazon.com pays it's affiliates anywhere from 4% to 15% commission of each sale.
So if you have a dog training manual that costs $50, 4% would be $2 and 15% would be $7.50. Obviously not much, but let's look a little bit farther…
Suppose your website gets about 100 visitors a day and makes a sale every 20 visitors. This means your conversion rate is 1:20 which means you make 5 sales a day. 5 sales a day at 4% is $10 and with 15% you'd make $37.50.
Multiplied weekly, this number will become far more bigger as will monthly profits. This means that your website can rake in anywhere from: $200-$1,125 every single month! And that's just for one product.
There are many products which cost $1,000s for which you can make $100s per sale. And if you have multiple websites bringing something in everyday, that quickly adds up. That is why it's NOT uncommon for people to make 5, 6 and even 7 figure incomes every single year and even month doing this work!
Think about what a few $100 can do for you. A car lease, a mortgage payment, more dinners, and extra money you didn't have before! What about $1,000s? I'll bet you know where this extra money can be put to better than I can!
Furthermore once your website is up and running and making sales, you can go about your life and let it do all the work for you. That's the beauty of internet marketing. You can sleep, work elsewhere, go on vacation, ect… knowing that your website/s are bringing in money every single day!
And that my friends is online marketing in a nutshell!
Helping you get started for free & with NO risk!
Before you dive into this business, let me recommend that you DO NOT try it alone. The reason being is that without proper guidance at your side, you will likely go through a lot of frustrating trial-and-error attempts. I know about that believe me. I did this for 3 years before I got it right.
What WORKED for me was joining a online marketing school called Wealthy Affiliate. They provided the proper guidance I was looking for and will do the same for you, and for free.
Click here to learn more about Wealthy Affiliate!
In a nutshell this is a "school" that teaches you everything about making money on the internet no matter how new you are to this business. Their training is set up in a way that is VERY easy to understand, implement and is based of solid foundations and honest/proven methods that lead to success.
More details about what you will learn from Wealthy Affiliate here.
I have been with them for nearly 6 years and recommend them above ANY other program out there. Having been a part of many different programs and scams, nothing beats Wealthy Affiliate.
The bottom line is if you're looking for honest ways to make money online, this place will help you achieve it in the fastest time. Oh and did I mention they were free? There is literally no risk in trying them. Their sign up only requires a name and email, that's it! Give them a shot and you'll be happy you did :).