Pure Leverage is an MLM company which many have deemed a scam and a copy of Empower Network. It is basically a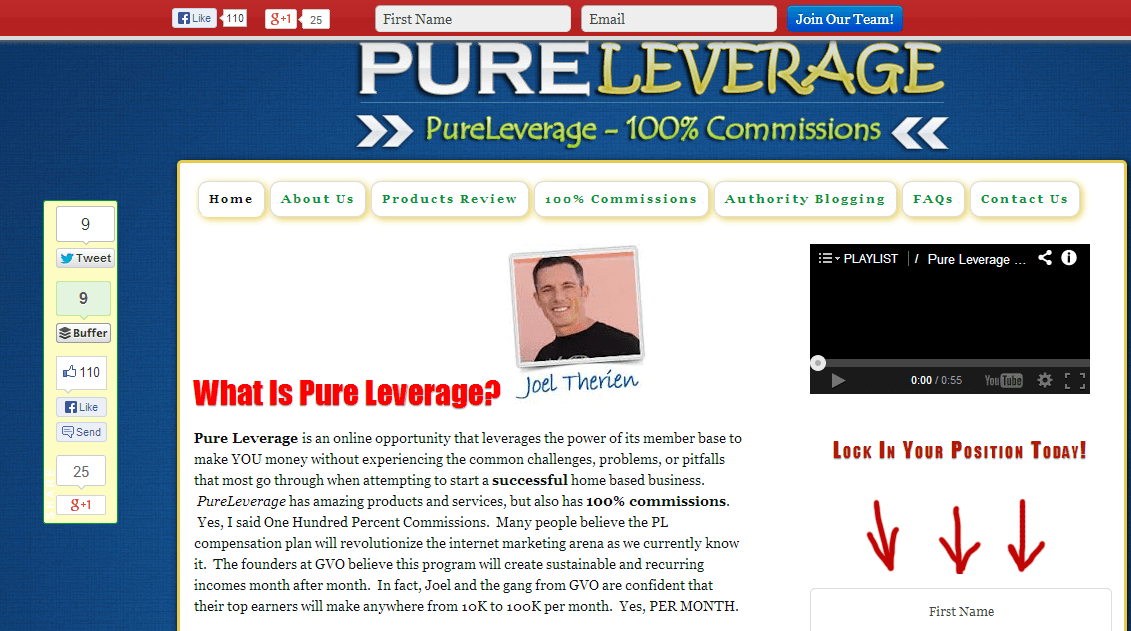 program which helps you make money online by offering you "all in one" tools to do all the hard work for you. But is it really all it claims to be?
Furthermore, the company boasts 100% commissions paid out to affiliates as well as 50% matching checks for accrued income made by people you refer to the program.
These claims are pretty outrageous (at least in my mind), so let's examine what's true and what isn't because I can tell you this right now, there's A LOT of smoke and mirrors behind this program and you're going to find out about it in this article. 
Before we go any further, I'd like to tell you that I am an online marketer with 7 years experience in the field who knows how the process of making money online works. So I'll be debunking the promises this company makes and tell you the truth on whether or not this company is legit or a scam. You'll be the judge…
Inside Pure Leverage. What It Offers:
I'm going to be breaking down the most important things you get from Pure Leverage but at the same time explaining the catch as well as if these components are the real deal or not. Just a heads up, most of them will not be as advertised. 
1. The company offers 2 membership levels:  
A lower level for $24.95 & a higher level which costs $124.95 level. 
2. 100% commissions off people you refer to the company through their affiliate program. 
The catch 1: It's only 100% for the first month referral. After that it's 50%. Not bad to be honest, but it's not exactly explained unless you dig for that information. 
The catch 2: In order to promote any level of the Pure Leverage program, you need to be a part of that level. Ex: If you want to promote the $124.95 level, you need to be in that level to do so. The incentive is to get you to join the higher levels which I find pretty shady, but this is how the business must survive. This is something they don't tell you though until you register. 
3. Elite Coaching Program: 
This training takes you through the whole process of understanding all of the benefits Pure Leverage offers you as well as how to utilize it in addition to tactics to seducing people to join it, getting them to attract others and in the process make you more money overall.
What this is all about REALLY is making blog pages promoting the company and attracting others to join them through you. However, instead of offering real value, most of these blogs do nothing more than copy/paste the same text the main Pure Leverage site have and woo visitors with images of riches, fancy cars, bold money claims and more. 
If you've done your searches for Pure Leverage reviews, odds are you've seen many of these blogs. In my mind a blog which offers glamour more than content is full of well you know what. I find this method of marketing sad and unethical. 
It also reflects the kind of training you get from Pure Leverage. If all these blogs essentially promote this company the same way, it shows that they are being taught to do so by the company, which in turn reflects just how they do things.
Looking for a program which teaches you ETHICAL methods of marketing? Here's the only place I recommend.
4. Autoresponders for lead generation.
Autoresponders are programs which collect emails from a site and then allow you to send out follow up emails to sell something.Through Pure Leverage you are given an autoresponder program to use which they boast is better than top tier autoresponders on the market.
The idea here is that you use this autoresponder to generate leads and potential clients through the autorespodner system and then refer them to Pure Leverage.
Upon doing further research, I found members complain that the autoresponder is not as it's advertised. Emails you send out to potential clients end up going into the Junk folder and thus never being opened. If this is true, then it defeats the purpose of having this kind of program. 
5. Turbo Traffic Generation.
From what I've read from former members, this training doesn't yet exist. Yet it's advertised as though it does which is supposed to be a component of your monthly payment. 
6. Support is not so grand.
You are told you get instant support, but in reality it's all through email and response times ususally take up to 48 hours, even for the most simple questions. Support to me a BIG deal. In internet marketing, 48 hours can make a huge difference and asking a normal question only to wait up to 2 days to get an answer is unacceptable. 
Furthermore you ONLY find out about the email support and no phone system AFTER you join. Shady, shady…
7. "Authority Blog"
I put this in quotes because of the misleading title they label their blogs with. Authority blogs are blogs which have prestige with search engines like Google. Pure Leverage claims their blogs have such preferential treatment and high page rank and that making blogs through them will get Google to rank your blog/s higher/faster than others which will get you traffic and in turn sales.
In reality most of these claims are nonsense. Authority and page rank are a thing of the past. You can ONLY get such things after a blog has been up for several months, has people commenting on it and most importantly offers QUALITY content (full tutorial here). No way can you start a blog and have authority right of the bat. It's something that takes time to develop. Don't let anyone tell you otherwise.
 Final Rating: Pure Leverage

2 Out of 10 Stars (Outdated tools. No authority blog. Not recommended.) 
Final Conclusion: Should You Join Pure Leverage? 
No. I don't recommend it. I believe it's a waste of time and money. I've been in online marketing for 7 years. I am able to distinguish scams from legitimate companies and the rule of thumb for doing so is basically this:
1. A company which promises you'll make tons of money through their "easy" system is either usually a scam or not telling you the whole truth. 
2. Also companies which are based on MLM models such as Pure Leverage in my mind are all shady since their focus is more on "forcing" people to promote their company to stay afloat, a business tactic I find unethical. Pure leverage does this very well in making you join their higher membership levels in order to earn higher commissions promoting it. 
And those 2 things are what struck me when I first heard about Pure Leverage.  Call me a negative ninny if you want, but I have high standards when it comes to programs which teach you to make money and I strongly believe Pure Leverage is not one of the good ones. 
In essence it's a program which promises you massive riches, but in order to attain them, you need a huge email list of marketers interested in joining this program, something that will never happen since most marketers would stay away from this program in the first place. The only other thing you can make money from this program is their "Authority blogging" which has no authority whatsoever. You have better chances of making your own free blog and having that receive more traffic than through them.
Making money on the internet is very possible and can be very lucrative, but don't let companies tell you it's easy or offer you their "effortless" type system that does the work for you. That's all nonsense. This business requires effort and proper training.
You will only put in major effort with Pure Leverage, get very little out of it. As for proper guidance, Pure Leverage only shows you how to market via shady tactics from what I've seen (subliminal images). I'm not a fan of that whatsoever. 
Official Pure Leverage website.