Niche Profit Classroom is one of the very few programs I've done a review on which scores high on the legitimacy board. It's a service that teaches people to create niche sites and utilize traffic tactics to funnel visitors to the
page/s and make a profit in the process.
The whole program is all about teaching you SEO and after reading many reviews (both bias & unbias) as well as researching what's inside the program, I have come to the conclusion that this program is very legitimate.
What Niche Profit Classroom offers it's members:
As a member of this organization, you get access to many different things, but most importantly:
A guide to finding a profitable niche market. Usually they recommend starting with a niche which you can relate to. Many people possess knowledge in certain fields which they can then find niches through and utilize this service's benefits to profit off them. 
Ex: Piano teacher creates niche site that offers piano playing tips and promotes some sort of piano training guide.
But if you have no prior knowledge in any field, they teach you how to find niches.
They offer you a ready made wordpress site that you then use to fill in information on your niche with as well as promote a product related to that niche. This saves a lot of time and energy on your part. 
They offer webinars and great support to their members. 
NPC 5.0 Update 2/18/15:
NPC is currently closed to new members. Once it's open again, I will let everyone know. Until then, if you are looking for another legitimate program, there is 1  I recommend above NPC and that is Wealthy Affiliate. Both programs are awesome, but there's a few points where WA scores above NPC (one is that it's free to join). Here's some quick information on both companies:

The remainder of this review goes over what's inside NPC…
Here is an inside look into the member's area: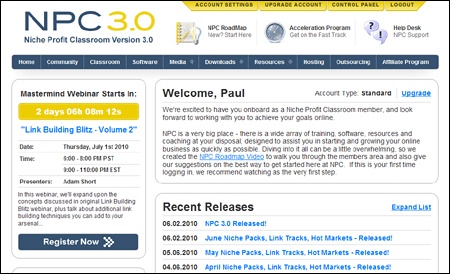 How you use what's taught:
Essentially Niche Profit Classroom (who is releasing a 5.0 version soon) basically teaches you everything about finding niches and using legitimate SEO tactics to get your site traffic. With the traffic, you have the potential to monetize the website through these common methods: 
You can add Google Adsense to your website and profit each time someone clicks on an adsense link on your page.

You can learn to market a single or multiple affiliate products and potentially earn multiple streams of income. 

You can apply the training and make a number of different niche sites.

You can create your own product and sell that on your website. 
This isn't exactly something new, but very few places teach the authentic way of doing this. Niche Profits Classroom is one of them. So is this place. 
How long can it take to see results?
There are many tactics in NPC that I currently use in my own niche websites (including this one). Usually depending on your chosen niche (some are more competitive than others), you can expect to see organic traffic start to come in after several weeks. But in most cases, it can take at least 2 months to start seeing desired results, at least in my cases.
I want to point out that regardless of the length, there is NO such thing as a get rich quick scheme when it comes to making money online and any program which promises this is a downright scam. There are also black hat approaches to speeding up results, but I never recommend those for these reasons.
The bottom line is that legitimately several weeks/months is what it may take for you to see traffic. Now if that traffic will turn into sales is another question. NPC is all about teaching you to attract the visitors, but it will be your job to sell to them.
Pros:
Great SEO/Email marketing advice on how to make high quality websites that rank high on search engines and get good traffic and collect email lists.
Legitimate training and support. 
Offers a 7 day trial for $1 (then charges $67 monthly).
Offers an affiliate program which pays monthly for each member you refer. Affiliates can earn up to $250 a referral every year.
Cons: 
Doesn't offer training in PPC (Paid advertising) which is an important component of online marketing, though optional.
Doesn't release fresh information weekly/monthly.
Not worth being a member of after several months due to the fact that it's taught you all you need to know. 

 
 Final Rating for Niche Profits Classroom:

Green Light
6 out of 10 stars: Good legitimate program. You can make honest money online with this. See which ranked #1.
Final thoughts: Should you try Niche Profits Classroom?
Niche Profits Classroom is a truly high quality training program which shows it's members legitimate ways to make money online using up to date SEO methods. Though I want to point out that most members do not report making millions. They are actually up front and honest about it based on some of the websites I've seen promoting this business.
What is good about this claim is that it shuts down the ridiculous hype you see in other websites which are scams (They promise you'll make millions, blah blah…). What I personally like about this site is that it doesn't hype itself up or promise you anything big. Does this mean that with this program you won't make a lot of money? No.
You can actually make a lot of money with this program, but it's more realistic that you'll make a little bit (at first). Niche sites can bring in good money (I've experienced 6 figures) for people who use it correctly and this program shows you how to do it.
Some will require having multiple niche sites to see the kind of income they desire, others may not see any results at all. The bottom line is Niche Profits Classroom is good, but even with legitimate programs, there is never a guarantee of making money. It will however give you most of the tools and training to succeed in internet marketing. And that is why I rated it high. Having been scammed more than once, I have very high standards for recommending anything online marketing related and this place does meet those standards (for the most part).
But it DOES have flaws: 
I've heard of some members claiming there's no point in being there after a few months because you learn all there is to know and then paying the monthly membership makes no sense. But NPC does go through upgrades every now and then. Right now a 5.0 version is coming out and I certainly hope this will make up for the cons I posted above (PPC, updated info, ect…). If so, I will give this program a higher rating.
One of the major issues in the world of internet marketing is that it's constantly evolving. Few programs keep up to date with these changes and inform their members about it. My #1 recommendation is one of the very few programs which does this regularly.
In the end Niche Profit Classroom is a solid website which is a breath of fresh air in the online marketing world which is polluted by so many scams. If nothing else, this is one of the few programs you can trust with giving you the information needed to succeed in the online marketing world. Though I still prefer my option above this one, I will still say NPC is worth a shot. 
Official Niche Profits Classroom.
If you are a current/former member of Niche Profits Classroom and would like to share your experience, ask questions, post your experiences, please do so below!