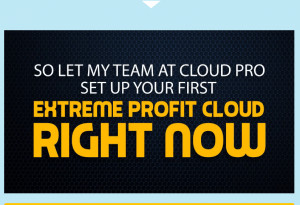 Quick Report:
Name: Xtreme Profit Cloud
Price: You'll have to buy hosting and the price ranges.
Overall Rating: 1 out of 10 stars (This is a scam)
How does making $700/day sound? I'll bet it sounds good. Unfortunately the work needed to get there is a "little bit" beyond what Xtreme Profit Cloud claims it'll take which in their case is basically buying a "small hosting package" and letting some team create a profit building website for you. So is this place a scam? Yes (my opinion).
Xtreme Profit Cloud in a nutshell:
This place tries to get you involved with buying a hosting plan from which the owner of Xtreme Profit Cloud will make a commission and this is something that's actually disclosed on the sales page, but it's not something that's fully explained to you, nor is the rest of the sales pitch which not only hypes up a lot of it's claims, but also gives you ridiculously unrealistic expectations.
Hype vs Reality:
Before I go any further, let me make something very clear: Is it possible to make $700/day online? The answer is yes. I've done this on several occasions and you can read my case studies for proof, like this one. In some cases, this was done in a 24 hour period with relatively short work on my part. 
But the truth on my end is that I got lucky and found a hot market at the right time to make this money on. And the odds of doing that are VERY rare in this business. Most of the time, the majority of money you will make online (if any) will rely on hard work and giving your website time to develop, have visitors coming to it and earning consistently. This can take weeks, months and even years to happen. 
That's the reality. Now for the hype…
If you look at the entire video on Xtreme Profit Cloud's website, they literally say that you can sit back and make this amount in the next 24 hours, and everyday after that. All you have to do is basically sit back and let their team handle the rest for you. They even go so far as to mention that you don't have to know anything and they'll take care of it all for you. Here it is in their own words too:
That is hype. And if I may be blunt: It is a lie in my opinion and this alone is enough for me to recommend against trying this place out.
And really everything I'm mentioning right now is all secondary because all the things you see, all the claims that are made is just marketing. You're being sold a dream. And this dream does all the selling for these places. Yet I have never run across any program which preaches these things turn out to be real.
And because I've reviewed programs like these which try to sell you hosting plans before, what usually happens is that once you buy it, you will be given a website. Considering Xtreme Profit Cloud does what it says it does and has a team work on that site while you relax, what is going to happen is that website will likely have some content on it, aimed to sell.
Maybe things are all done for you from the view that you have things to sell on that site and if someone comes to it and buys something, you will earn money. That's how I see it.
Consider the following:
The problem is that whenever these sites are made, where may I ask is the incentive on the part of the team? If you're told you'll be making $700/day by having some team do this for you for a much smaller fraction, why would they put in so much effort and let you reap the lion's share of the rewards? Would you ever knowingly make a profitable business for someone and only keep a small percentage?
Ask yourself these very important questions and I think you'll come to the same conclusion I did: It's just not possible.
I've personally had experiences where I had work done for me on a website and it never:
1. Met my expectations.
2. The site was very poorly made. 
3. I paid a lot to have that happen (big mistake).
4. The marketing…
I put marketing as the last one because this is where my biggest skepticism arises. Having a website is nice and all, but what about how it gets marketed? There's no sense in having all this fancy stuff if there's no one coming to it. I believe that with Xtreme Profit Cloud you either have that website get marketed in some way or you just the site and will have to figure out the marketing on your own.
Either way, the best way to market a website is to do it yourself. It's cheaper and you are in control. 
Pros:
You get a pre-made website potentially.
Cons:
I believe there is nothing to this site other than the guy trying to sell you into a hosting plan.

There's cheaper and even free alternatives. Here's I make websites.
Final Rating: Xtreme Profit Cloud
Red Flag (Scam)
1 out of 10 stars. Don't ever let anyone build your success for you. It's not going to happen. Take matters into your own hands. If you have the ambition and a resource to teach you how to make this possible, you will succeed. The way I became successful online was using training from this place and working hard.
My Final Thoughts:
The kind of money Xtreme Profit Cloud talks about online is possible. But through them? I don't think so.
People do get lucky in this business, but if you're looking for long term results, you can't depend on luck. I did and I almost went broke because of it and that's after I was making a six figure income. Through my down turn, I also tried using these done for you type services and it was a huge mistake.
But putting the big picture aside, don't forget that what you're being sold here is hosting, not the dream. And that's in combination with reality is what the big picture is. Work hard, work smart and you will get results. Rely on someone else to do it for you and you will fail.