Quick Report:
Name: Weapons of Mass Commissions by Matthew Neer
Price: $9.95 and guess what? Up-sells! Progressively expensive ones too: 1 for $97, down sold to $47, the next is $199 down sold to $47 followed by one that's $497 (no down sell) and finally one for $997 (no down-sell). 
Overall Rating: 2 out of 10 stars. The up-sells were a big reason I didn't like this program, but also most of the program just tries to sell you autoresponders, other programs, tries to get you into paid advertising networks and offers very little "rich" content besides some bonuses. Very little value, even at $9.95 in my opinion.
Weapons of Mass Commissions (WMC) in a nutshell:
There isn't much new stuff to learn if you've already familiar with email marketing. All you really learn here is how to build a squeeze page, get a WordPress site with host gator hosting, The rest is picking out affiliate offers and promoting them to a list. 
You learn to build the list through mostly paid means such as solo ads, ad swaps and "safe list" websites where you'll buy traffic, hopefully get people to sign up to your email list and promote them the affiliate offer you chose from the WMC site. 
If you know alternatives to what WMC teaches, you can go about without buying these things. If you don't, you're going to probably think you need all of this stuff. You don't. 
Inside WMC: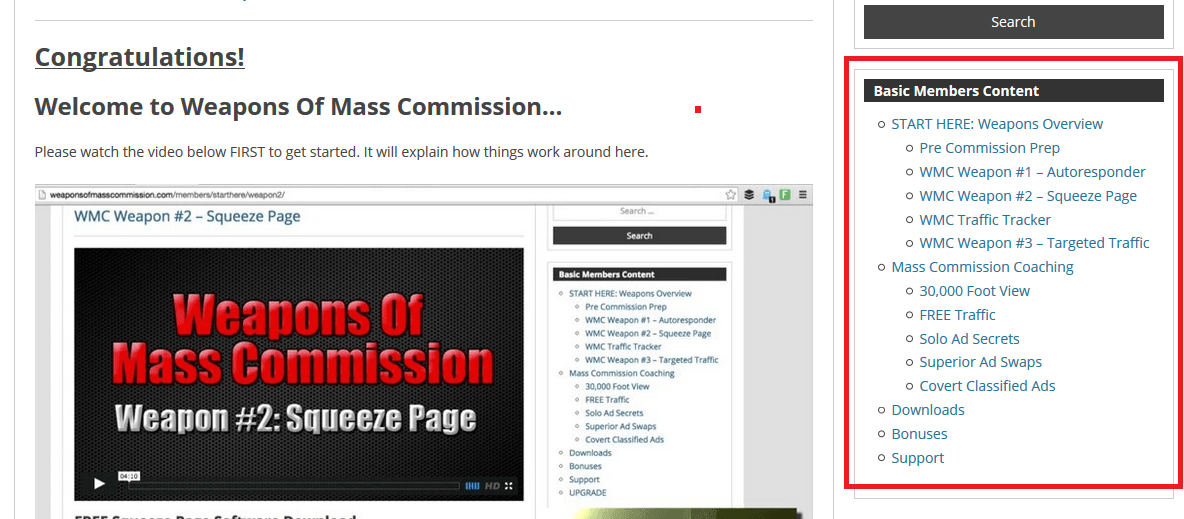 This is a screenshot of the main dashboard area. There is a menu above that picture I could have fit into the whole picture, but the words wouldn't be too visible. The red rectangle on the right is the menu you also find on the top and it's all you get inside WMC:
Start here: An intro video from Matthew where he shows you how to navigate the site. In this area, there is a PDF download to a 29 page book where you get very good instructions on setting up an an autoresponder account with Get Response, a website and other essentials to get started.
This book is called the "Quick Start Guide" which reminded me a lot about one called the "Fast Start Guide" from a program called Bring The Fresh. 
The instructions in that book end with Matthew promoting a program called Infinite Leverage System. I didn't like this because besides instructions on how to set up a site and autoresponder, there's only just the promotion, no explanations on how to get the site traffic. I later found out this was "covered" in the other areas of the site, but not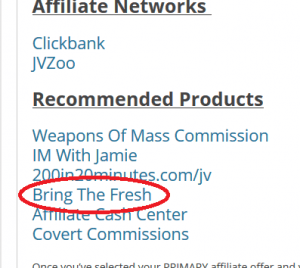 the way I would have hoped for…
Pre-commission Prep: Here you'll have a list of affiliate networks to join such as Clicksure or Clickbank. I personally like Clickbank more because Clicksure has a lot of scam products.
Remember that Bring The Fresh program I talked about? Well it's on the list of places you could promote as an affiliate. I saw a lot of similarities with the way WMC is designed with BTF, but while BTF focuses more on SEO, and offers slightly more value, WMC focus on email marketing.
WMC Weapon 1: Links you to the Get Response autoresponder. I've never used it, but I know Matthew is promoting it to you. 
WMC Weapon 2: Here you learn to build a squeeze page but there is a download to a plugin to install to your site that gives you the option to add a questionnaire. I've never used these before, but it's meant to engage people who will visit your site. 
By the way, pre-commission prep through the WMC weapon 2 is all covered in the Quick Start Guide. 
WMC Traffic Tracker: Another affiliate offer from Matthew. He promotes this program which is going to help "track clicks" on your site so you know where your money is coming from. I've never used this program (Click Magick), but it's promoted for a $1 trial for 14 days. I know there's plenty of free tracking tools you can use instead (Google Analytics and the Pretty link plugin are good).
WMC Weapon #3 Targeted Traffic: All that this is, is a link to the Infinite Leverage System which was promoted in the Quick Start Guide.
30,000 foot view: A summary of everything you've done up until now and how to use this to build a business. Since everything up until now that you've learned has been pretty broad, this tutorial isn't of much help. 
Free Traffic: This section interested me most because it gives you a list 12 sites that have email lists they will contact with your affiliate link and site so you could build a list and then sell to them. 
Free lists like these or ones you pay for are things I very skeptical of because they say they are targeted, but usually they aren't in my experience, but it's worth trying if it's really free. Just keep in mind a lot of these places hook you in for the free option, but there are upgraded memberships which do cost money so be careful.
For example, Bweeble which is one of the networks that's on the list has a free option, but they right away try to get you signed up for their yearly option of about $200: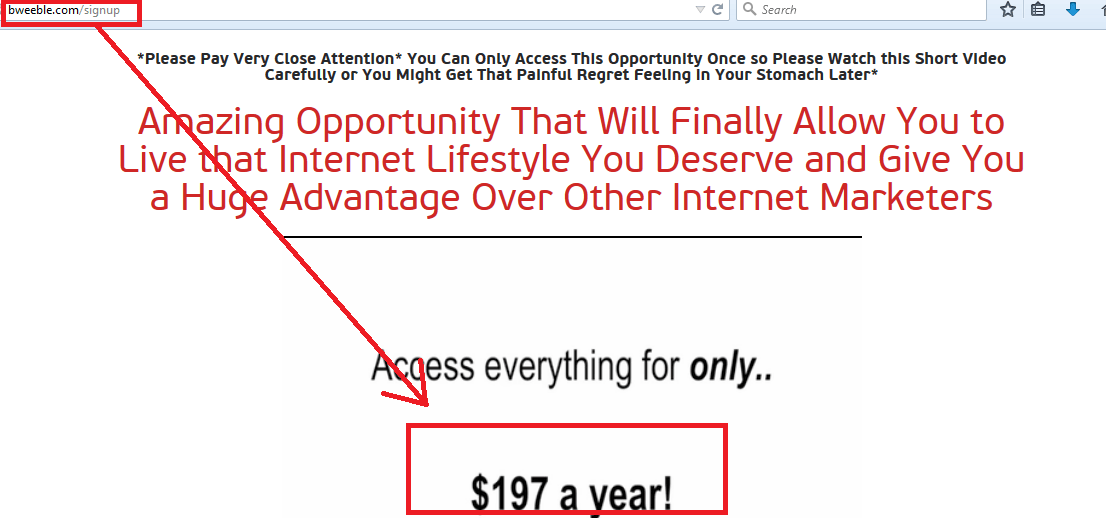 And there's probably something to pay with the others. 
Solo ad secrets: Provides a link to 3 solo ad sites, including one on the Warrior Forum.
Superior Ad Swaps: Another resource that has 3 sites on it that deal with ad swapping.
Covert Classified Ads: Links you to a Warrior Forum section where you can post ads and the other link is to Craigslist…
Downloads: Shows a list of the downloads you've already gotten for free in some of the above areas.
Bonuses: 7 videos talking about IM success and A LOT of books Matthew says changed his life, all linking to his Amazon Affiliate link.
And that's the WMC dashboard. 
Pros: 
Organized site and easy to understand the material (because it's very broad).

Some information such as the Quick Start Guide and the bonus videos can help beginners.
Cons:
The things you are taught to do are mainly paid and even the free stuff somehow leads to paying anyway.
A lot of the content is good for beginners, BUT I would never recommend beginners get involved with Ad swaps, solo ads and a lot of the other things Matthew recommends. I just think he's trying to make as much money as possible rather than showing beginners are very good approach to getting started with internet marketing.
Final Rating: Weapons of Mass Commissions

Red Flag
2 out of 10 stars. Just a lot of basic information and the rest has to be paid for. Good luck making this work if you're a beginner.
 My final thoughts:
The only reason I didn't call WMC a scam is because it's cheap to buy and that's before the up-sells hit which are extremely expensive, never mind the debate on whether or not they work. 
The rest of the site has very little content you can actually use for free. Everything in one way or another is going to get you to sign up somewhere and none of that is really "free". I hate this sort of stuff and I see it happen a lot with this business. You should never have to get your feet wet and have a smaller wallet in the process! 
There's programs like Wealthy Affiliate where beginners can do a lot of the things WMC teaches like build a site for and get a lot of great free training they can use and it's all free:

I don't believe WMC is going to help beginners. A lot of the methods they teach are NOT guaranteed to work and besides paying, being new means having to go through a learning curve which means more money is going to be spent before you make something work in my opinion. That's not how you should learn this business.