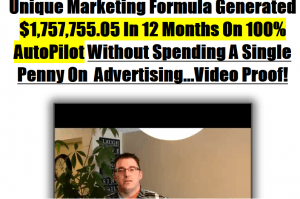 Quick Report:
Name: The Traffic Jacking Code by Paul Birdsall.
Price: $47 a month. Additional optional offers available within membership area. No up-sells.
Overall Rating: 2 out of 10 stars (It's one of those programs which offers good information, but you can literally find a lot of it for free). 
The Traffic Jacking Code in a nutshell:
Most of this program (99%) is just about doing product launch jacking which is common sense stuff to a lot of internet marketers, although it is a good way to earn money, though shady at times.
If you're new to this concept, I have a whole tutorial written up and honestly, I think that's all you need to know to understand how THIS particular program works.
The rest of the site is just filled offers for hosting, backlinks and other complimentary resources to help you make a successful project out of Paul's system. Oh and one other thing: there's an option to advertise in Paul's membership area.
If you want to see what's inside, here it is:
There's really nothing about this program that's new age. It's all based around the old and highly overused method of launch jacking and if you know about it, then you will also automatically know about Paul's program. But if you're still interested in taking a look inside, here's what you need to know:
There are in total 14 training modules. Each module contains a training tutorial (it's a YouTube video) where Paul walks you through each step of the system.
I have reviewed Paul's programs before such as his Academy of Online Success and while the information in his programs is generally broad and obvious, he does a good job of teaching people what to do so generally I feel that beginners will get the most out of this program. Everyone whose higher in terms of experience will not find much else to use…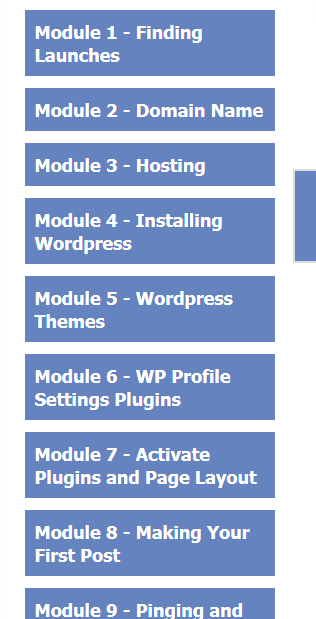 Module 1: He'll give you 5 sites that he personally uses to find programs that will be launching in a month (or several). These sites aren't secret.
Here are 3: JVnofifypro, CBEngine, and JVLanchCalendar. All of these sites show you soon to be released programs on the market.
There's also another I want to add: Muncheye.com.
The job of the launch jacker is to use that time before the actual release of the program to create a website promoting it. By the time the program gets released, you can occupy the first page of Google for people looking for info on the program and can earn a lot of money promoting it.
In short, you basically get an insider's look into upcoming programs and while the competition is cold, occupy high rankings and then make the money. 
Modules 2-7 go over the very basics of buying your domain name. It's going to be an EMD which is the keyword for the product plus words like: review, scam, testimonials, ect… The rest of the modules will go over installing your website and setting it up.
Module 8 will explain how to create your first post. Experienced users of launch jacking shouldn't be surprised by this part: You just write up an article promoting the program and in the title use the main keyword (basically the product + review again). Then you write up a whole bunch of content saying how great it is…
Module 9 talks about using sites like Pingomatic (so old school…) to let search engines know about your site and rank it faster. Honestly, this is unnecessary. You could just use Webmaster Tools and let Google directly know about the site. Pingomatic is such an old tactic, I'm surprised it even gets used anymore.
Module 10 talks about making YouTube videos targeting the product keyword and linking to your site. The example Paul shows us here is seriously low quality stuff in my opinion. It's just a short video trying to get people to click on the link in the description box to visit the site. The purpose of the video is to provide link juice to your website and have it rise higher for the targeted keyword. 
I've seen a lot of videos like this and really I don't like this form of marketing. I feel it tries to abuse a system in place and offers no real value to customers. Neither does positively reviewing a program you seek to profit of when you haven't really tried it yourself, but that's a common problem with launch jacking profiteers. 
Module 11 through 14 will go over adding more articles to your site all with the purpose to boost your main page (the page reviewing the product) to be the one to appear highest on Google.
After these modules are complete the rest of the site is filled with accessories you can use such as backlink services you can buy to boost your site's ranking (usually black hat stuff I never endorse) as well as ways to outsource this stuff so you won't have to write the content and pay very little for it in general and a rolodex page which is basically an index of all the services (all optional) you can use with this program. 
Pros:
Generally Paul provides good instructions.

The only value I got out of this program was those 5 sites he uses to find future launches.

Beginners might like this program.
Cons:
I don't see any reason to buy this program for more than 1 month.

You can find the videos in the modules on YouTube by just looking up "Paul Birdsall". 

Generally the information Paul provides isn't unique. He's just taking obvious information to market online, adding his own style to it, makes products out of it and sells that. In some cases, it's a rip off.

There is NO refund option. I tried refunding, only to get a message saying there is no refund policy, I could cancel my subscription however.
Final Rating: The Traffic Jacking Code

Red Flag 
2 out of 10 stars. Stick to reading my tutorial on launch jacking. This program is really not needed in my opinion. If you really want it, I wouldn't use it for more than one month. Plus there's so much for to succeeding online than just following this one method. This program is like one puzzle piece of a huge set. There's programs out there which give you all the pieces.
My final thoughts:
I don't see any good reason to purchase this program other than the potential to use Paul's membership area to advertise your own product (only make money online related!). I wouldn't use it as I see better ways to spend my money on advertising. 
Launch jacking is also a grey area of internet marketing which DOES work. I don't think it's right though to put all your energy into this. New internet marketing products will always be released, as will products in all topics and there's ways to use this formula to always make an income, but it's risky and really a gamble in many cases. Don't rely too much on it.