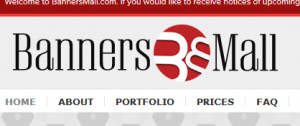 Quick Report:
Name: Banners Mall.
Price: Many different variations depending on the service you want. Anywhere from $24-$235. Package deals available.
Overall Rating: 5 stars out of 10. Good services but before you buy, decide if it's appropriate for you.
Banners Mall in a nutshell:
This review is not so much about dissecting the services and prices of Banners Mall as it is about asking if you really need it. For all of the in-depth information on pricing and how they work, you can get that straight from their website.
It's a service which advertises and makes banners and decorations for websites, start up companies and local businesses. Anything from:
Headers.

Footers.

Peel away websites.

YouTube channel page.

FB channel page.

Twitter background page.

Or just regular banners of your choosing.

And much more…
Such services are ideal for local businesses looking to make a good impression on online customers. But in this report, I'm going to ask and examine if you need these services to begin with…
The argument for using Banners Mall:
1. If you have any sort of physical business that advertises online (including your own personal website/social network page), I would recommend using banners mall to give it a more professional look.
Depending on what your website is aiming to sell, you can choose which specific area or advertising channel (social media for example) you'd like to focus on. 
2. Most website designers in my opinion overcharge for all in one services to make a website. Considering it's VERY simple to make websites in 2015 (earlier too, but moving on, it's only to get easier), paying the regular price of $500 (usual price depending on your area) to several $1,000 (high end specialists), I'd say it's never worth using that.
Based on the pricing you see on Banners Mall, they charge less for basic or individual services than you'd find with other website designers. How much you'll save depends on the service you get vs the web designer's pricing, but in many cases, you will be saving a lot of money.  
If you currently do not have a website, consider buying a domain name which signifies your business and creating a WordPress page out of it. Once the page is set up, then see where you'd like to focus on specific decorations and hire Banners Mall accordingly.
I'd advise testing their services first on a specific part of your page. For example, if you need to make your whole website look good, pick out one specific area (for example, the header which is at the top of your page) and see what they can do. If you like the end result and more importantly, it benefits your business from a marketing standpoint, continue to use Banners Mall's services.
3. If you have an affiliate program for your product/service, I would also recommend using this service to set up a number of banners and give them out for affiliates to use on their websites. 
What about Banners Mall alternatives?
1. Fiverr: You may find tons of website designers who also do similar things as Banners Mall, but for cheaper prices on Fiverr. There's good and bad things about that site that I could find, but cheap prices for good services such as web design would be on the good side.
2. Just do it yourself:  Websites are SO easy to create these days and many services such as SiteRubix allow you to make pages within a minute. They are going to require you fill them in with your business's or topic's information, but all the coding is set up and hands free. 
I'm a huge proponent of doing it yourself but it only goes so far in many cases. If you are seeking to make a regular website and don't care about making it look pretty, but rather just want to have something you can call yours, I'd recommend making your own page. See how I do this.
3. WiX. This isn't exactly a website I'd recommend for SEO, but if you're just looking to make a good looking website quickly, this would be one of the best places to do it. WiX features a simple drag and fill in the form type program where you have pre-built templates and graphics set up for you so if you're not interested in hiring anyone to build you a website, don't want to do it yourself, let alone hire graphics designers like Banners Mall, then I'd recommend WiX. By the way, in my opinion the best way to market your site if it's a WiX page is through paid advertising such as pay-per-click (PPC). And in regards to that…
How do you plan on marketing your website?
Consider this section an optional read because if you already made up your mind about using Banners Mall's service, go for it, they are good. But if you're not familiar with marketing, I'd recommend you give this section just a minute of your attention!
One thing many new business owners and website creators do not understand is that how your page looks and well it sells is based on how well the site is marketed!  A good looking site isn't enough to get an influx of visitors from the internet (offline is another story).
If you don't know how to market your website properly (or you just don't care), it doesn't matter how much you pay places like Banners Mall to set up banners and/or make the website look breathtaking. It won't mean anything if the website isn't popping up in the right places.
So my advise is that if you are looking to make your website get visitors, take sometime to study online marketing and then focus on making your website look good. 
 Final Rating: Banners Mall

Green Flag
5 out of 10 stars. Good program with good reviews (I haven't found any complaints yet) as based on IMReportCard. Usually I don't weight the reviews on that site as being accurate but for services like Banners Mall, it's good enough for me.
My Final Thoughts:
This service does deliver great results and you're going to be happy with the end result, but that end results can be one of two things:
A) It could look could and that will satisfy you.
B) It can market well and that's really what you should be aiming for. Good looking banners do NOT always mean you'll get more sales/leads out of this. I've tested this numerous times and saw on many occasions that the better looking banners got less clicks on my site than ones I made myself using simple programs and they were NOT pretty. 
It all varies, but I'm the type to find the best of both worlds: Learn to market your site, then apply the professional services of Banners Mall (one by one to see how it works out).