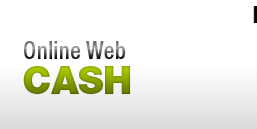 Quick Report:
Name: Online Web Cash.
Price: Free to sign up for.
Overall Rating: 1 out of 10 stars (It takes the same formula from duplicate scam sites I've reviewed and links you to third party sites which ask you sign up for them. Most of those sites may also be scams).
Online Web Cash in a nutshell:
There are a few assumptions I have regarding this "program":
1. It's just a regular affiliate site trying to promote third party programs to you. 
2. One of the ways they promote third party programs is that they ask you to sign up (register). This is what you're probably seeing right now on their site. A phone icon with information to fill in. Once you sign up, expect to receive emails selling you things which usually end up in the spam box. 
3. One thing I have absolutely NO doubts about is that this look of the site exists in other places and is associated with what some people refer to do as the duplicate scam sites. There's 2 other sites I personally know that look like it and they all function exactly the same way.
Out of all the theories I have, this is the one that's most sound and I'll explain why that's so important. I also have pictures to prove it.
If you sign up, this is where it'll take you:
Right now if you visit the site, try to sign up and click through, you will be taken to a page called "The Free Bucket":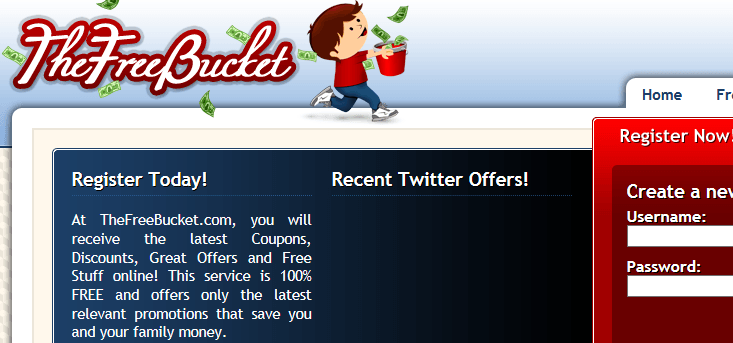 What exactly is this place? Well there are a number of offers on it which take you to other sites. Some of them are rewards programs while others are promoting some make money online places. You can select "Yes" or "No" from the list of offers on the page. 
Which ones can be trusted? That's a good question, but my answer would be none of them. You can't really get access to those sites unless you sign up with the bucket site and that entails entering more information about yourself. I wouldn't do it.
I'm not even sure if Online Web Cash is in anyway associated with The Free Bucket right now and that's normal with these types of sites because of how they function and that's where I'll start explaining the scam:
There are a BUNCH of websites online which all look exactly alike, except for their name. Their goal is to sell to you some kind of get rich quick program and then up-sell you insanely with coaching lessons. The claims they make are very distorted. Coaching is tough to get in this business, but here's one of the few sources, where you can get it from me, legitimately.
When I find these sites, normally this is how they'll look:
Obviously this is not how our website looks in their design but the very same way these sites look alike is the exact same way Online Web Cash and the 2 others I talked about seeing before also look. Here's 1 perfect example where I found another page that looks like it: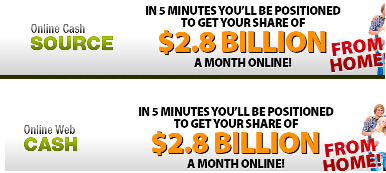 I'd screenshot the whole website, but take my word for it: It's all exactly the same except of course the name of the site. We're talking the same testimonials, same photos, same everything. 
So the question then is are there really the same people making money from both programs? Are both programs the same? Are these pictures and claims not real? Is the site genuine? My answers would be that the sites are not real and that they may have been designed by different or even the same people, but it doesn't matter because it won't really matter if it's a scam anyway. 
I hope you're starting to see why I look upon this program as a scam and if not, it's because these sites remind me of the same scam being pulled in the ones above I showed you and yes, they were ALL scam sites.
Changing trends:
Lately, I haven't been seeing the original scam duplicates as often (the 8 examples above). I have however been seeing Online Web Cash and other sites like it. So what's actually going on?
I believe that since most people are becoming more familiar with those original sites, the same people who were behind them are changing their look and I also believe some of them are making sites like Online Web Cash. And it wouldn't be the first time this has happened either.
This is exactly how they do business: They keep switching how their sites look. There's also instances where you'll see cross linking happening between these places and the most recent site that's being promoted is Excel Cash Flow which (surprise) is one of the old scam sites! 
Now let's go back for a moment to The Free Bucket website. As I said, I don't see any affiliate links there that would indicate that Online Web Cash profits from you joining there but this is also something that commonly happens with the duplicate sites:
They often link to other places and sometimes they will connect you to sites they have no association with. This can either be because they claim spots have filled up for their program done to avoid suspicion of perhaps or there's no new program for them to promote at the time, but it will change, you can count on it. Keep your eyes on the linking going on from Online Web Cash. You're bound to see a new page it's going to link to very soon (A few days if not weeks). 
Final Rating: Online Web Cash
Red Flag
1 star out of 10. There's a lot of holes you can spot with this program and frankly, I don't even believe it is a program. It's just an affiliate page.
My final thoughts: Is it really a scam?
I believe it is. There is that possibility that it's not, but at this point, after reading everything, I still have more questions than I do answers. I know this isn't the last time we'll see a site like Online Web Cash and please do me a favor: If you ever spot anything like it, tell me about it right away!