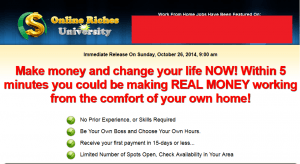 Quick Report:
Name: Online Riches University by "Mary Johnson" (Most likely not a real person)
Price: $197 discounted to $97. Expect up-sells too.
Overall Rating: 0 out of 10 stars (Scam)
Online Riches University in a nutshell:
There isn't much need to dig into programs like Online Riches University to find out if they're scams once you've already seen tons of other sites like this. All they really do is get you to spend a lot of money on really empty promises. Then there's also the likely up-sells to endure as well as consultations from "experts" in which all they'll try to do is get you to spend more money on things you don't need. 
Deceptive wording:
There is no "University" with Online Riches University. It's just added there to make it look credible. In fact, here's a couple of other sites just like this which also like to use that word:
Work at Home University

Careers at Home University

Work at Home Institute

Online Home Careers University
And these are just the ones with the word university in them. If you only knew how many other sites like this I've found, you'd be astounded to know just how big of a scam this is and how it pulls people in.
Usually, you'll find these places from some fake work at home websites, but in my case, I found it while reading a review on a movie. Whoever is behind these websites sure does a "good job" of spreading their marketing tentacles across the internet trying to get as many people as possible. 
And guess what else is "coincidental"?
All of these places look alike especially in their text. Online Riches University is no exception, but they did change the font and color of their text. I took a portion of their site's text and compared it to another one of the same scams. See for yourself:
The text on the left is from Online Riches University while the one on the right is taken from another site which I've already reviewed and put in the same category as this one.
How strange that we have 2 people who have basically the same story. They hated their job. They both had a chilling day that changed their life. They both were broke and had a child to feed, rent to pay, ect… 
The one on the left was "written" by Mary Johnson while the one on the right was "written" by Michelle Robinson. Anyone want to argue these people are actually real not to mention their stories? 
And this is just a small portion of text on the site. If you keep looking through all of these sites, more than 90% of the text, claims and hype is identical. It seems to me like these sites are just copied over and over again because they seem to have a high conversion rate (high rate of sales).

Online Riches University is also known as "Home Job Institute":
Just another heads up, but if you look at the checkout cart of Online Riches University, it's going to give you a few places it will say Home Job Institute: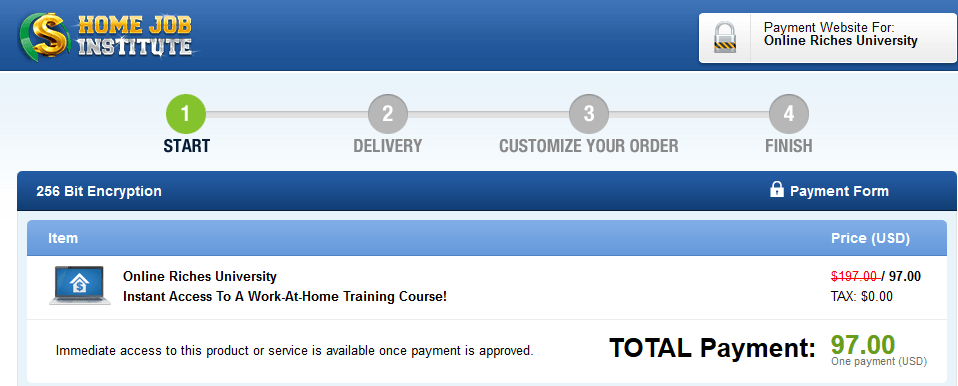 Is this a typo? Are these 2 programs the same? Well in my personal opinion, I believe that at one point it was called Home Job Institute until knowledge spread that it was a scam so they changed the name to what it is now. 
I tried searching for this place online, but found no results. This to me means that they took down the site. But it was VERY popular. Apparently it was getting nearly 3,000 searches every single month. It's unfortunate because that's a lot of people who were potentially scammed:
What about the pricing? 
Very often when you stumble onto this or any other site like it that pricing will either be $197, $97 or discounted to $77. Online Riches University starts off the price at $197 then says they'll cut out a $100 if you sign up. Is there any truth to this?
Well the price cut is just another ploy to get you to think you're getting a great deal. These places (even legitimate programs) use this type or approach to selling. Realistically however, there is no actual discount. It was always set at the discounted price to begin with.
In Online Riches University's case, they kind of prematurely tried to make me think this. Not 5 seconds into visiting their site was I given their "special discount":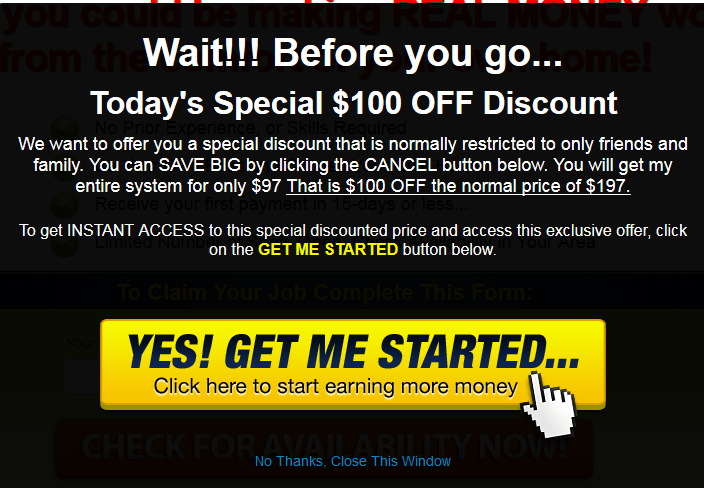 Usually these pop ups happen if you try to exit the site and in my case, I didn't even try to leave the page to begin with. Usually price changes and discounts happen with products for a few reasons:
The quality of the product you're getting is probably nowhere near as high as they make it so they discount it a value more fitting (if the product is even legitimate to begin with). This is where the up-sells come into play. 
Final Rating: Online Riches University
0 stars
Red Flag (Scam)
0 stars out of 10. This place is about as real as "reality" television. 
My final thoughts:
I've accepted that these scams are never going to end and I've sort of become numb to finding and reviewing them. At first it made me nauseous just looking at them, how much they lie and deceive people, but this is just the way it is.
What can you do to stop these scams? 
Well first, never buy them unless you research them first. 
Second, let others know about it, including me (My personal scam report page). A lot of people always jump into these programs without thinking.
That's really all you can do. As for reporting them? It's pretty useless because they always switch to a new site and hide behind that. Worry more about avoiding them than finding the next scam. They're always going to be there. By avoiding them and warning others, we can help put and end to this nonsense.