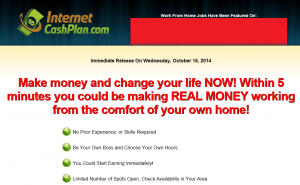 Quick Report:
Name: Internet Cash Plan
Price: $97 (more costs follow)
Overall Rating: 0 out of 10 stars (Scam)
I found Internet Cash Plan while doing my weekly update on well known scam sites. While some of these sites promote new scams quite regularly, this was the only one I had not yet seen so I guess it's the new one on the block. While I do state my opinion on this place and haven't personally tried it, I think after you read what I have to say, I doubt you're going to disagree with me.
Internet Cash Plan in a nutshell:
There are a lot of sites like this and almost all of them claim that you can make money posting links which can lead to basically a full time income. However, what these places also do is vastly exaggerate, misrepresent, deceive and hype up a lot of their claims so whenever I spot them, I just refer to them as link posting scams. 
Based on the many others like it I've already exposed, I assume with this program nothing is different and what that means is that the money they charge you upfront isn't going to end there. There are going to be further charges, offers & services afterwards and I will go over a few of them based on some key terms I noticed while reading their sales letter. 
Other scams like this:
Before I get into the extra charges you're going to likely run into, here's a compilation of a few sites like Internet Cash Plan that I've put together into one picture. All of these are taken from the homepage of these programs. I want you to notice how similar they are: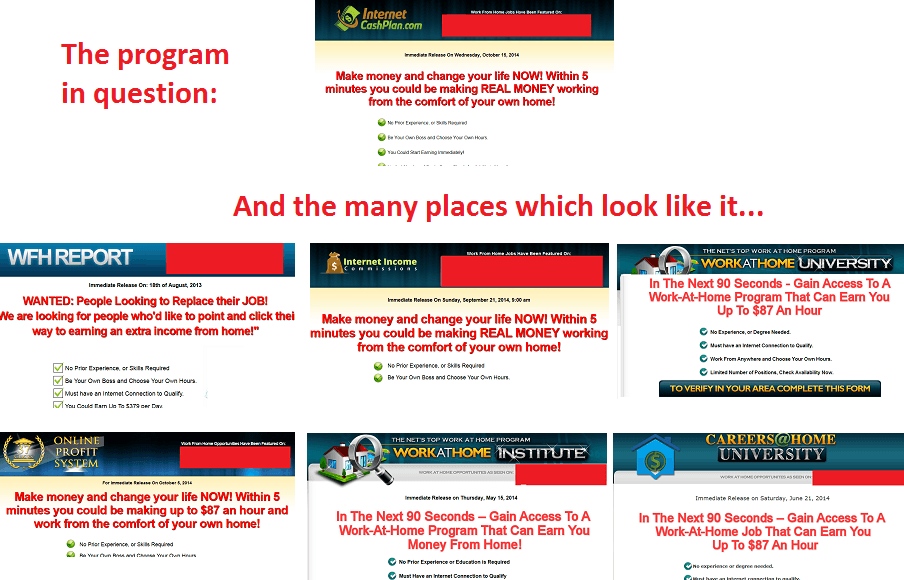 Now do you see why I said I don't need to buy this in order to know what this is? And even if you go inside each of these places (before you buy) and see their sale's page, the text is nearly identical in many of them. The only thing that's different is the person who is supposedly behind the program. Internet Cash Plan was created by a "Kim Lewis". 
The other potential charges:
I believe there's going to be several (at least) and it may run you $1,000's if you combine all of their prices. They obviously won't tell you this on their homepage.
In fact, it's sort of funny how these places like to disguise their claims and words so they look like they're technically telling the truth, but because I know what to look for, it's easy to quickly see some things that pop up and identify what's going to happen. With Internet Cash Plan, 2 things stand out:
1. The "free website" they say they'll give you: I am going to predict that this is not free. The site itself maybe, but the catch is that you'll probably have to buy hosting for that site and this is where the charge might come into play: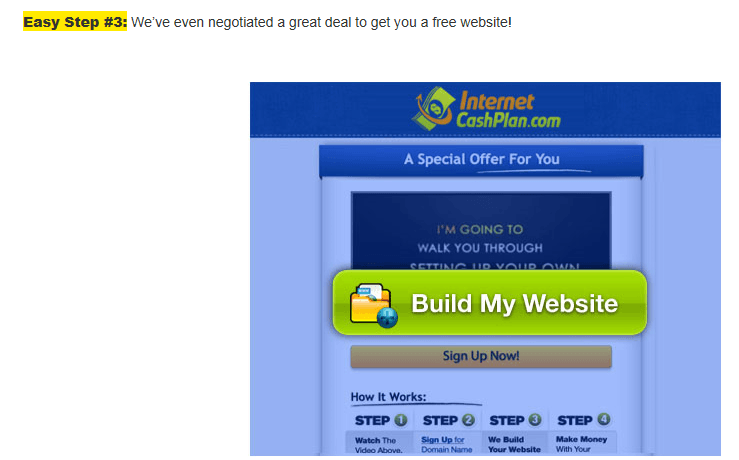 I've reviewed a number of "free programs" that said they'll give you a free site and then ask you to buy a hosting account which they are affiliated with. So technically the site is free, but overall it is not. See what I mean by disguising claims? 
Now giving this the benefit of the doubt, I could be absolutely wrong and you might actually get a free website, but I'm fully confident it isn't completely free, not when we're dealing with these types of scam websites. 
The ability to create free websites does exist. It can be through blogging platforms or special website builders (which come with hosting). My personal preference is a program called Site Rubix.
2. Consultations. This is where you can lose the big money.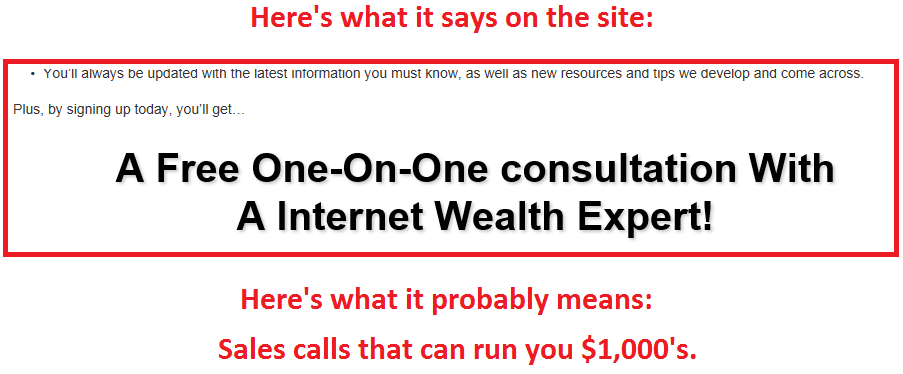 So how do they keep getting away with this?
Simply put: There are no repercussions. The people behind these places are likely selling some programs and coaching services and either promoting it themselves or giving others the option to promote it for them for a commission. 
There is no clear regulation on these places and if there's too many complaints, they just switch over to a new name, new pictures, new website, but everything else stays the same so there's really no way to catch them unless you identify the source of these scams and I don't think it's just one. The only real thing you can do is never get involved and/or spread the word. 
My theory on what really happens when you buy:
Considering you buy into the $97 and then get the "free website", I assume you get links. These are going to be affiliate links that if someone clicks on and buys through, you can earn money. But besides that, I doubt you're going to get anything else, unless you buy more things. 
Links are only as good as the website and the website is only as good as how you market it. You can have tons of links and a great looking website, but with no visitors to that website, you're not going to make anything. This is what I believe these programs leave out and unless you buy the extra things they offer which can cost a lot of money and let me tell you, it's not worth the price! 
Final Rating: Internet Cash Plan
0 stars
Red Flag (Scam)
0 out of 10 stars. It's not worth the risk in my opinion. Here's what really works.
My final thoughts:
It doesn't really matter if there's a single charge, multiple or even an infinite amount. What does matter is that getting involved with places like these is a bad idea even if it's just to have a look see. This is why I'll personally never risk it. 
The only people likely to make fast money from these places are the people who run these scams and not the people who fall for them. If you have been involved with a place like this and feel you've been scammed, my best advice would be to dispute the charge and try to get your money back.