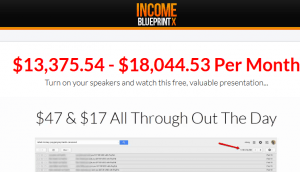 Quick Report:
Name: Income Blueprint X by Kory Pearman.
Price: $9.95 with 2 up-sells, the first is a $47 a month "premium upgrade" to the regular training you get (down sold to $27/month) and the next is a "White Label Blueprint" for $67.
Overall Rating: 3 out of 10 stars. Intermediate level marketers will in my opinion find few good uses with this program while beginners will feel like they've learned a lot, but it won't end up helping much. It's missing too many things and there's too many other things to buy. You shouldn't buy these things without experience first.
Income Blueprint X in a nutshell:
It's an email marketing crash course (here's mine, it's free). The basic: create a squeeze page, funnel traffic, capture emails and send promotions. The rest of the stuff revolves around small things like pitching CPA offers for "instant cash" and ways to build the list.
The ironic thing about this program is that it's actually not wrong in what it recommends. It's right on a lot of fronts, but it's so basic that a lot of fine and VERY important details are missed and this is going to hurt beginners in my opinion. Whether this is missed on purpose or by accident, it's still going to be a key to knowing if you're to succeed using this idea.
The paradox of the members area:
You only really get a set of instructional videos which I want to mention in several cases are full of great information. There is a text summary and links to important resources there to help you along but it all goes over the steps to email marketing. I've attached an image to the right to illustrate this training.
Overall there's a few hours worth of content to look through and you will learn a lot if you're new, but just not enough to do anything good with it.
Things that were covered in great detail were:
How to create an informational product and give it away to your list.

How to set up an autoresponder and make follow up emails.

How to find affiliate products to promote.

Where to find CPA offers to make a quick buck after people sign up to your list.

How to find new products coming out onto the market and promoting them to your list.

5-6 different methods of getting traffic to your site (very broad information) and at least half of it is going to have to be paid for.

Outsourcing the hard work to places like Fiverr.
Things that weren't covered enough or at all were:
Getting a website domain name.

How to set up your website (They promote a WP theme that you can buy), but no instructions on setting it up.

You aren't given any other alternatives other than the options Kory lists. If I was a beginner, I'd want to experiment with something like a free site and FREE traffic methods before investing into his recommendations. Here's where to learn that.

There's just NOT enough details on many of the training's (including the stuff that's missing) and beginners are going to be lost, I just know it…
These 4 things may seem small, but it's like building a house without a piece of the foundation included. Without it, it's likely to break. There's basically so much information and yet at the same time there isn't. That's the paradox.
Not good enough for intermediates and lacks for beginners:
That's really a good way of summarizing how I felt about going through Income Blueprint X. With the information I feel is missing, from a beginners point of view (if I step into their shoes), the way I see them reacting to this program is probably something like this:
They buy it with high expectations. Oh wow, for only $9, I can learn how to generate 5 figures every month!
After they buy it, they see the up-sells and Kory does a good job at making you think you need it. I don't feel you do, but let's pretend the beginner didn't buy it. They want to see if the $9 gets them all they hoped they would get.
The start going through the training, get excited, see the potential behind this business, but around a few points see that there's need to buy things like: A website, a WP theme, an autoresponder, buying traffic.
Suddenly those $9 look like nothing and you see there's SO much more to what you though it was and this is where you may take 1 or 2 routes:
Route 1 is you take a big chance and buy all the stuff Kory recommends, spend a few hundred and see where that gets you and not to sound too pessimistic but it's probably going to cost you even more with experimenting because there isn't much training on using the strategies Kory talks about, plus there's also the learning curve for beginners.
Your hopes to making fast money for a $9 turns into a not so cheap investment anymore and the word fast? Well the only thing going away fast is your money. And the second option you can take is just not follow any of it and think the whole business is a scam. I wouldn't blame you for thinking this way at that point.
But since I'm not a beginner, from a more experienced point of view, this information is useless to me.
This makes the whole purchase unnecessary.
Final Rating: Income Blueprint X

Yellow Flag
3 out of 10 stars. There is a lot, but again, not enough to get people, especially beginners through the whole process, at least not without a lot of bumps in the road.
My final thoughts:
You know this is the sort of product that has a lot of potential and that I'd actually give a MUCH higher rating to if it were free and if it offered more alternatives. But since it doesn't, the rating will stand at this point. 
However, I don't want to leave anyone wondering what to do next, so let me give you my opinion of what I think you should do:
There are programs which provide a ton more information than Income Blueprint X, that are perfect for beginners and that are actually free to try with no indirect charges. They are not as broad in what they teach, don't leave out major missing pieces and give you real alternatives that are not just cost effective, but also free (as well). That's where I would start and that's perfect for that is Wealthy Affiliate:
Will it make you quick money? No, but it works in the long run and if you read this whole review, you should know one of the main points I tried to make is that original quest for fast money would lead you into a long and profitless experience. Never trust these fast money programs. You'll always get the opposite.