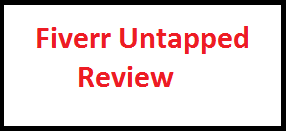 Quick Report:
Name: Fiverr Untapped by John Shea.
Price: $7 plus 1 upsell for $14.97.
Overall Rating: 4 out of 10 stars (Good odds of working, but it will take time to develop).
Because I have little experience in this particular topic, I was very open to seeing what Fiverr Untapped had to offer and while the amount of content I got for purchasing this program was pretty small, the information and ideas it presented really opened up my mind to the possibilities out there and I'd like to share that with you.
Fiverr Untapped in a nutshell:
It's a short guide on how to utilize Fiverr to earn money. Basically you learn how to build a blog and contact site/product/website owners from various niche topics and through Fiverr charge them $5 (or more) to do interviews. You then publish those interviews on your blog, the person/s who paid you get exposure and a backlink back to their site. 
The ebook explained in detail:
The ebook itself is 23 pages long. Interestingly enough, even though the title of this course is Fiverr Untapped, in reality a lot of what you will be doing in the beginning stages will be outside Fiverr. You'll first have to:
Own a website. This can be a free blog site or one you purchase. If you don't already have a website up and running, you can utilize one of my own methods to do this. 
Once you have the website up, it is important to choose a topic which will identify the site. John Shea uses his online marketing blog as an example in the ebook. 
Then you will have to fill that site up with content to give it credibility. John's site has a lot of credibility and good rank based on what he said. If you can get to that point too, you have more chances of making this strategy work because it'll be easier to attract customers. 
Next you will have to find people who are successful in whatever niche topic your site is based on. Since John's site is based on online marketing, he finds successful online business owners from places like the Warrior Forum and then contacts them privately to see if they'll do an interview with him. In your case if your topic is this, he provides links to various places which feature other subjects and people you can find based on that. He also provide a sample message to send these site owners.
Next will be Fiverr. You will have to register with that place and set up your account to offer interviews. John shows his personal Fiverr page as an example for illustration.
Your end goal is to try and get people to do an interview with you, but it's actually going to be a questionnaire. John provides 5 questions he asks business owners, emails that to them, then when they reply, he puts that on his site and provides a link back to the customer's page.
Considering you can get interviews, once it happens, you will send people to your Fiverr page, have them buy, provide the questions (or whatever else you choose to do) and then put that on your site. This provides your page:
With fresh content. 

A link back to the other person's site (I have my doubts with this since I don't like backlinking).

Supposedly everyone wins.
This is basically the idea. There are also 3 videos giving you examples of how the strategy I explained above works and 3 bonuses you get one of which gives you a discounted access to John Shea's Udemy classroom. I haven't reviewed that yet.
One important question you may have is why Fiverr? Why not just have your own checkout cart and charge custom prices?
This is something I initially asked myself while reading the guide and it was answered indirectly by John. By having more people buy your Fiverr offer, you can get more exposure through the overall site which can in the long run get you more customers. It's basically a snowball effect and the further this goes, the more money you can make.
How much? I estimate a few hundred a month perhaps. As for thousands? I think it is unlikely unless you become very popular on Fiverr and I believe if more people keep using this strategy, the more competitive the market will become, but it's still likely to work.
John did mention sometimes he does $20 interviews where he talks to the person. Just something you can keep in mind.
Pros:
The Fiverr idea can do well and make you money.

Doesn't take a lot of time to complete once it's set up properly.
Cons:
I doubt there's a lot of money to be made with this idea. More likely a little bit extra every month to get by.

I feel that you'll need a high quality website with consistent visitors to make this work.
Final Rating: Fiverr Untapped

Yellow Flag 
4 out of 10 stars. One thing that I feel will absolutely be necessary to making this work is having a website which gets visitors to it. That will provide you with the leverage to sell your interview idea further. I doubt anyone will agree to do an interview, let alone pay you $5 or more to do it unless they know there's benefit in it for them. For that kind of stuff, you need great training in online marketing which is really the foundation of all success. 
My final thoughts:
The program itself is simple to follow and very practical to try, but it will take time to build up. For "quick cash" purposes I don't see this working unless you've already established the foundations I talked about which is a good website and to add to that a reputable Fiverr page. 
John did talk about paying people on various sites to write reviews on your Fiverr page to help speed things up, but I don't ever like doing any sort of marketing from an artificial stand point. I feel that if you have a good quality service to offer than sooner or later people will come to take you up on those offers.