Awhile back, I did a post on profiting via hot trends that arise very often in the world, but one thing I didn't point out was there was certain events that take place every single year that are in fact hot trends and can be capitalized on from an online marketing perspective.
For example, today is Father's Day, a special day that is celebrated in most countries every single year, one that has families getting together and father's enjoying their special day. But in addition to these obvious things taking place, here are some other scenarios that pop up:
Events/foods/drinks/presents to give your father on this special day.
It is these sub-topics, especially the gift one that brings up tremendous opportunities for online marketers because there's plenty of products that could be sold to this crowd.
There are TONS of family members who every year get lost on what to buy dad and this leads a lot of them to search the internet in hopes of finding that perfect gift idea. Imagine for a second having a website dedicated to helping people find the perfect Father's Day gift/s which sells affiliate products from which you could make anywhere from $0.01-$100's for every sale.
Now imagine this website being ranked very high and each year that Father's Day comes around, you're looking at HUGE traffic numbers. In fact, let's see just how many people type in the word "Father's Day gift ideas" on Google (I used Jaaxy):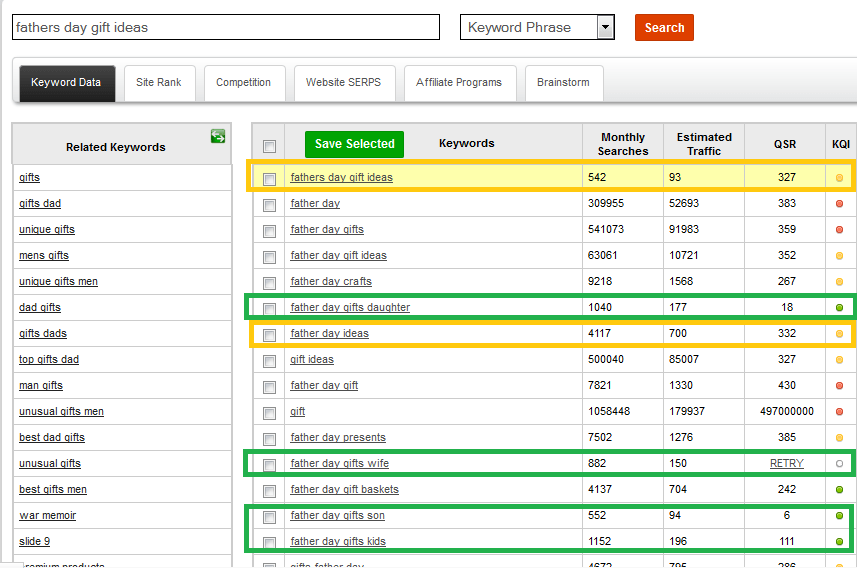 To be honest, I was very surprised at what this search brought up. Notice I didn't actually circle the keyword "father day" which gets over 300,000 searches. That's because it's too broad and doesn't really get into details on certain things like:
How old the father is.

What he likes.

Who the Father's Day present is from (Wife, mom, kids?)
It wouldn't be effective make a website, whether for SEO/PPC purposes and target the general Father's Day crowd. We'd need to be specific. This is where I was surprised by a few things:
Notice some of the keywords I put in the green square list specific things like son, kids, wife. This leads me to believe that a lot of people are looking to buy presents for their father (husband) but want it to be representative of who it's from. 
Makes a lot of sense if you think about it, but this is actually GREAT news. Because in the process of having our main topic:
Father's Day, we have found some REALLY cool niches:
Best Fathers Day gifts if you're the wife/kids/parents/ect…
Within each of these categories, we're looking at SO many products we could sell. If you're the wife and you want to buy your husband a great Father's day gift, what kind of  things are available:
If you're the son/daughter:
Maybe some sort of sports prop.

Something from the daughter that represents a connection between them.
And within each of these ideas lies TONS of products that could be sold if you're an affiliate and you would never even need to buy these things. You could promote them through places like Amazon.com.
And this is just for the Father's Day. What about other special days like:
Mother's Day.

Valentine's Day.

Black Friday.

Cyber Monday.

Christmas (a big one).

Birthdays.

Ect…
Yes each of these things happens once a year, but let's think about this for a second:
For most of these events, the preparation stage (when people start becoming interested in it) begins way before the event itself. Maybe a few weeks-months? 
And if that's the case and you have a site ready and focused specifically on the right niches, you're going to be seeing a large rise in profits for this period of time. Yes it's going to happen for a short bit every year, but it will be very worth it in the long run. There's entire businesses who thrive on just that one special occasion that happens once a year.
Now if you decide to do something like this, I would recommend a number of things:
Having proper guidance on online marketing.

A budget in case you need to do some paid advertising online.

Expertise in the special event taking place because this will be SUPER improtant in conveying to your visitors and convincing them to buy
Doing something like this isn't for beginners and it will rarely work out if you try to do if when you're new, but if it does, it can be a huge money maker and something to lean on. Personally I stick to finding niches that are popular year long but events like the ones I indicated above if marketed correctly can bring in unbelievable sums of money.
Now there's 2 ways to pursue this type of thing (you can do both):
1. SEO. Create a niche website focused on one of the above events (or one of your choosing) and make sure to include every category of people interested in this niche. For instance with Father's Day, we didn't actually target THAT subject because it's not a niche. 
We targeted present ideas, but as we got deeper, we saw people such as kids and the wife or the father were the ones interested in picking a present that they felt represented their relation to him. This is important when you write up your page because you can include separate pages/articles that target these mini subjects, such as:
What's the best Father's Day present from a wife.

What's the best Father's Day present from a son.
Notice in each category, it could be 2 completely different things.
Being able to find these different ideas and use that on your site is just going to offer you bonus points in the SEO world and help de-segment the whole Father's Day present's niche idea which is great!c
2. PPC. You'd need money for this, but in this instance, we're looking at potentially faster results. You would advertise your site via paid advertising networks and attract people to it from which you could then earn money. On the flip side, you'd pay every time someone clicked on your ad.
It's a faster way of doing things, but it does cost money and is a gamble.
You can do both as well, but SEO will bring in more traffic and success (in the long run), although it will take time to see results initially. Like I said before, if you're going to do this, you need proper guidance on online marketing before you go any further. This will give you the right direction needed to make this type of stuff happen.