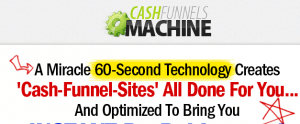 Quick Report:
Name: Cash Funnels Machine by Lucas Adamski.
Price: They change but you can get a $1 trial for 7 days, then it'll cost you $48 (one time).
Overall Rating: 5 out of 10 stars (A lot of good content. It has a lot of uses, but it's not for everyone).
I tried to buy Cash Funnels Machine a few days ago to test it out but for some strange reason/s I kept getting an error after I made my payment (I tried several times), so I figured it didn't go through. However the other day, I received an email confirmation from this program giving me access to it.
I also saw that apparently the purchase did go through and because I tried buying it several times, I was charged several times. So I had to contact their support to clear this up, but in the meantime, I did download the program and had a good look at what you're given and this is what I will talk about in this review.
Cash Funnels Machine in a nutshell:
Basically it's a whole bunch of content you get such as ready made squeeze pages, tons of pictures, banner ads and bonus content such as traffic generating tips and other nifty things that you can use. The website itself also has videos giving instructions on how to set all of this up and add it to your sites.
Another cool feature of Cash Funnels Machine is that you get a program which combines it all. What that means is that you can use the squeeze pages you're given and set up your autoresponder to work all from one place on the site as well as managing text and editing your pages. They have the options to connect with many different autoresponders. All you really do is just paste the script code you're given and that's all that's needed.
There's a $1 trial available which you can activate if you visit their main website and then click the back button.
What the trial gives you:
It says you get an unlimited site license for $1 which from what I saw after downloading appears to be true. There's A LOT of content to download.
I didn't get to see how many squeeze pages there are, but by my estimate, there's a folder called "3 hot squeeze pages" and a number of other templates with eye catching titles you can edit and use, I figure there might be somewhere between 10-20. Some of the squeeze pages had inspiration videos on their which you could use to influence people signing up. Overall, not bad and I do see them converting.
There were other images, templates, banners, headers you could also use on your site. Some folders within the content I received has graphical content on various topic such as:
Dating.

Fat loss, muscle gain.

And more…
As for the program itself where you can combine all your squeeze pages, edit them and connect with your auto responder (basically putting it altogether), all you really need to see is on the sales page. They show you videos and do a great job of providing you with an inside look. 
Overall, there is content stuff here and if you're seriously involved with email marketing, I see there being much potential in trying these things out to boost your conversions. 
Pros:
$1 trial available.

Lots of graphical and text content is given.

Good instructions on how to use everything provided.

Sales page does a good job of explaining the benefits and uses of this program.
Cons:
Not for everyone. If you don't work with squeeze pages or do email marketing, then this isn't really for you.

Might be some issues paying for it. I had problems, but the purchase did go through.
Final Rating: Cash Funnels Machine
Green Light (It gets my thumbs up)
5 out of 10 stars. I really like what I saw here and there's many uses to it. I would recommend this, but for the crowd which knows exactly how to make use of it. But still I believe this choice is better for the entire online marketing crowd.
My final thoughts:
For a $1 trial, it was certainly a bargain for me and I'm glad I tried this out, but would I recommend it? For certain people yes:
Those who already have email marketing campaigns and understand the business of list building, traffic generation as well as email marketing. Also those who possess knowledge on how to use FTP programs and upload websites there. If you're not one of these people, I don't know if this program is going to offer much other than a lot of good content, but with no direction on where/how to use it.
Also I wanted to comment on the title on the sales page which talks about bringing in instant money. It can be possible, if you already have a pre-made funnel and traffic system set up. For example:
Say I am running an ad and it's bringing in good traffic. I could use one of these funnels to test out how well this traffic can convert. From that standpoint, it can be "instant".
Also if you get the same error I did while purchasing this product, try to contact their support and see what happens. In my case, it ended up going through even though I wasn't aware of it until I saw the charge. Currently I have a support ticket pending. 
One last thing I wanted to note was that making squeeze pages isn't difficult and if you possess basic marketing experience of can set up a simple site (whether free or paid), it's very simple to edit it, make an eye catching title and put an autoresponder on it. I know that many would prefer it be done for them and this is why programs like Cash Funnels Machine exist, but it's just something to understand.
Personally when I do email marketing, I like to set these things up on my own, but after seeing what this program has to offer, I wouldn't mind giving some of these templates and squeeze pages a shot.