If there is a list of the top 5 or 3 questions people who own websites ask, it's why their site is not making any money. A page that makes you a full time income doesn't just make itself. It takes time, testing and patience to develop, but that can take years to understand. That needs to be way shorter…
Most of the time what we learn, we learn from experience, but instead of you learning from your own mistakes, let me share with you one of my own using a website that I've been working on off and on for a few years. It's made a few $100 dollars, but those are actually terrible results, considering it could have made so much more.
Update 2/19/17: If anyone has questions about their website/s which aren't making enough money…
Let me know below the details of it and I'll try to help you solve this, but obviously check this case study out first because it can really relate to many pages out there…
Now onto the situation I had and why would a case study show a "failure"?
Well because failures are what actually lead to success and I've recently made serious changes on the site that have made sales improve substantially. Instead of the $100 or so that was made over the course of a year, nearly a $100 was made in the past week.
That is a seriously tremendous improvement. Making in 7 days what was once made in 365 days says a lot and if I can scale, why can't that number go even higher? I'll share everything I've done to do this, but also help you identify the symptoms of why the site you currently have or plan on making isn't making any money and what you can do to fix it.
I want everything to be very clear when I explain this to everyone so we need to be at the same starting point. 
Your checklist: The 4 things you need to do to have your website start making money.
I want you to have these 4 things set up. Some of them are extra tutorials that are only going to help you. If you don't, you'll need to get to work.
If you want to share with me your website so I can check it out, go ahead, but if I see that you don't have those 4 things in place, I'm going to tell you to go back and read this article and everything else I told you to do..
1. You will need to have a niche site that's at least a few weeks old.
New sites are always going to struggle to make money at first. They won't rank well on Google, they won't get a lot of traffic, but you don't have to worry about this. Worry about getting new content on your site…
2. Make sure you have a Google analytics account and have it coded on your site.
The information this program gives us going to be essential to us in the future. In this post, I'm really going to be diving deep into the data analytics gave me and how it's helped me make smarter changes to my site. 
3. Make sure you have at least 50 pages or posts on your site.
Each page and post should have 1,000 words each (at least) and as I keep saying: write good content! This is very tough to get to and it's going to seriously be one of the biggest obstacles you're going to have to overcome as a website owner, especially if you can't afford to pay for traffic. 
When you hit this obstacle, just know that there's SO much stuff you can put on your site in the form of product reviews. Review products of every nature that are directly related to your niche. You can also read that tutorial I just linked for more awesome ideas.
4. Have your website set up so you can sell the maximum amount. To do that, I recommend you thoroughly read case study 7.
What's interesting is that this case study (8) and the one in that tutorial (7) are very similar, but that one is more of a "what happens when you do things right" vs this one where we have a site that clearly has problems and how I'm slowly changing things to make it look like the one in case study 7. I recommend you use this case study and 7 together to really help you in creating an ideal website that makes good money.
Took care of those 4 things? Good, now let's move into the case study:
Our case study begins with a website that HAS all these 4 things in place, yet despite that, it still isn't making good money. Here's a few facts about the site:
It's a dieting website which is really a pretty broad niche topic, but it can work.
It gets around 150 visitors on average a day (14 day report):

There are 59 posts and 2 pages (61 in total) and most of them fulfill the 1,000 word count. Most of the content is just me reviewing diet plans and I promote maybe 5 different diet plans on it, where 2 of them are most promoted. 
70% of the visitors I get are from organic searches which is what I want. This is the traffic I seek to make me money on the site:
Quick site history:
Over the 2 years I've had this site, I have been forced to promote different things because one or more circumstances happened:
I was promoting a diet that was paying me on average $30 per sale and while I wasn't making many sales with the site in the first year, the program eventually changed it's policy and I would only be paid $0.50 a sale! I had to change my promotion to something else. 
I then started mainly promoting 2 diets which paid around $30 as well, but one was promoted around 70% of the time on my site, while the other was 30%. I had more belief that the 70% one would make more sales. 
Over a course of many months, the diet which was promoted 70% of the time was not making a lot of sales. If I look back, it had to have been less than 5 sales over 6 months which does pay for it's expenses, but it's still horrible because it's really no major income. 
However, I noticed that the other one which was promoted 30% of the time actually made a few more sales. Apparently, it was just selling better. 
I wasn't focusing on this site as much as I should have, but it's my own fault.
Issues the site had which needed to be fixed ASAP:
Even though I had 61 overall articles on my site, around 90% of all my traffic was coming to maybe 5 or 6 different pages. I knew this thanks to Google analytics, but here's what I neglected to do which I should really be hitting my head over…
Most of those pages were linking to my original promotion which was paying me $0.50 per sale! My neglect in updating those pages to link to my new promotions was me missing out on making money. All those 50 cent sales (there weren't a lot of them) could have easily been $30 or more! I updated them all eventually, but it wasn't easy to do that not just to those posts, but every single one. 
One of the BIG problems was then solved…
The surge in traffic to my biggest page (the one that was being promoted 70% of the time) was very big and I felt this would correct the problems and help me get more sales. 
But it didn't…
After looking over the numbers on my page (not Google analytics), I saw out of the number of people landing on the page where I was selling the diet, maybe about 5-6% were actually clicking on my affiliate link. That's really a terrible number to have and based on the case study 7, click through of around 30% are VERY possible. 
Google analytics told me the average amount of time people were on that page was 2:30. For a page promoting something, I think that's awesome, but if it's that long and 5-6% are clicking to see the product and maybe buy it, it shows me that they are interested in the content, but NOT enough to click through.
So the problem I saw here was that I was NOT linking to the product page enough. I added more links, waited about a week. Things did improve and that 5-6% went up just a little bit, but the sales were still stale. 
I decided to change the actual wording of my page and a few times, even erased the whole page and re-wrote it entirely. But the 2 or 3 times I did then and re-tested, it still didn't show much changes. 
But the thing with testing is that you need to keep poking around until you get something and after seeing that this
particular diet was just not selling, I decided to change my promotion to that 30% diet one…which would then become the primary diet being sold on the site. 
Over a period of a 7 days, I then had 3 sales from that diet, which made a little over $80. Oh, I need to update that number, it's actually over a $100 now in 9 days since as I was writing, another sale came in, making 4 in total: $108.65 (Yellow stars = sales for that product).
Finally, a breakthrough that should have happened at least a year ago! 1 sale on it's own is NOT an indication of future success, but several sales shows consistency and these results are showing MUCH more promise than anything else I've ever done with the site, which as you've read wasn't much.
My final thoughts and what you need to do with your site this very moment:
As many mistakes that I have made, the biggest was NOT taking action with the site and that was mostly because I was more focused on my main one, but the amount of money I could have made if I had worked on this earlier really is eye opening and sad if you think about it. All those days with 0's turning to something is really uplifting!
Do the 4 things that I advised above , especially the things in case study 7 and when you have it all done, keep writing. 
Your site can ALWAYS be improved upon. Use the statistics you get from Google analytics with stats from your site on how often people click on what to narrow down how you can change/improve things to make more money.
With the diet site, my problem besides lack of action was first that I didn't link enough to it and then I simply had a program that just wasn't selling well and even when I tried to change how I was promoting it, it still didn't work. This may also show that the program being sold wasn't doing a good job of promoting, but it happens.
BUT because I had clues from my other program selling a little bit (the 30% one), the point which worked was linking everything on my site to that. This is what finally showed the best results so far.
Just because the site has made 4 sales so far doesn't mean this trend will continue. Anything can happen where things can go stale again, but if that happens, there could be a whole list of other reasons for that.
Now that I have my formula for success on that site, the goal is to keep improving upon it. More traffic needs to come to my site and more needs to go to that specific promotion. 
You have to do these same things on your site too, but ONLY after you handle the 4 other things first. Before you make any changes to your site or whatever you're promoting, you need to have hard data to support if you need to change anything and hard data comes from having real traffic come to your site and analyzing through Google analytics where it's going and if there's money being made. Only make changes AFTER you have this data in place.
7/20/15: An important update to this case study:
The previous sales report prior to this update showed 4 sales up until 7/8/15. After that, I'd like to share the results that occurred and another VERY important breakthrough I had: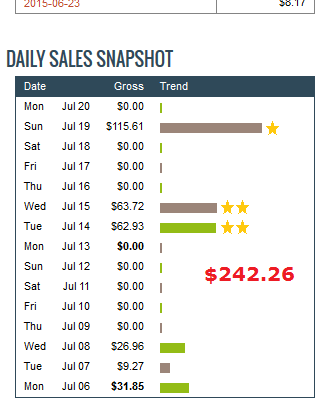 Our last report ended after 7/8/15 an from 7/9/15-7/13/15, there were NO sales. Then we had 5 sales occur. You will see days with multiple sales, I labeled as 2 stars. The one for $115.61 was 1 person making a purchase and buying all the up-sells, which still signifies 1 sale, making a total of 5 sales. 
From 7/9/15-7/19/15, the website received 1,204 visits of which 234 (almost 20%) went to the page which promotes the product that makes the sales. Considering we monitor the conversion rate of just the page where the sale is made, we have 1 in 46 visitors buying. That's about a 2-3% conversion rate.
That's not good, although it's much better than before. As I've said many times, testing is key to increasing conversions, so what I did was, I went back to my review page that promotes the product, looked over it again and found several faults which could have impacted sales:
Fault 1: The vendor of the program I was selling changed his title and what type of results people would get. I did not do this on my review page so anyone who lands on it and visits the vendor site will see 2 different numbers. That will confuse them.
I changed the numbers to fit what was shown on the vendor's page. Now the relevancy flows much better. 
Fault 2: I felt the review could have been improved upon so I decided to erase most of the content and re-write it in a shorter way. The review has officially gone up since 7/20/15. For the next week, I will monitor how this change affects conversions.
I don't ever recommend changing content on your site, especially if it's already indexed and ranked on search engines, but it's better to do this on landing pages that are selling something. You might as well… 
Just try not to change the pages which lead to the landing page, otherwise it can cause a re-index to happen. If I ever need to change content on a page, all I will usually do is just ADD more content, leaving the old, already indexed still up so it won't falter my rankings.
There's only really 2 outcomes that can happen from this test:
1. The site's conversion improves. Anything 1% or higher will indicate my new page is converting better and it will remain that way until a new test has to come.
2. If the conversion rate drops, I will consider replacing the new review with the old one (the one that had a 2-3% conversion rate), except the only difference is if that's going to happen, the numbers that I talked about being different on my page vs what the vendor says will be the same so it may end up being better.
I'll post an update on 7/28/15. The fact that we already have a review page that's converting is excellent. It's made over $300 in a matter of 19 days and we can always go back to it. I actually kept a lot of the old content intact because I felt it would be most helpful to read.
The promised update 1 day early, 7/27/15:
Well 7 days have gone by and to my surprise, the new review I put up actually only made 1 sale. Out of 1,000+ visitors who came to my site and only about 200+ entering my page where I make the sale with only 1 sale coming out of this, it turned out that either my new review wasn't as good as I thought or perhaps it was just a bad week.
Remember, with my old review, I had several days where no sales were made. This could also be happening here, but I decided to change the review back to the old one, run that for a week, then switch back to the new one and run that for another week. 
It is very important that I keep testing to find the clue. I've had projects before like this case study where I made a page I though had a horrible set up and yet it ended up breaking 6 figures. And I've had many pages which I though were going to do well that ended up not doing so. 
There will be times in marketing where what you see working or not working will just not make any sense to you. But as long as you have that 1 thing that's working, then keep doing it while making minor changes and seeing how that affects sales.
Have a site you want me to check out?
Leave a comment with your questions below and I'll take a look at your site!