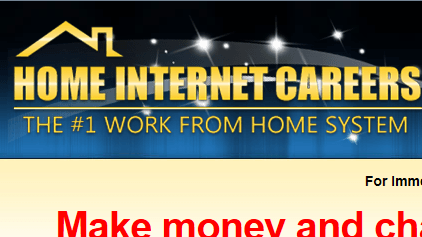 Home Internet Careers contrary to it's name is nothing close to what you may expect. What it preaches sounds nice, but it's just another link posting scam site that promises that you can make easy money posting links for big name companies. This is simply deceptive advertising and you need to be warned about this and other places JUST like it.
Home Internet Careers in a nutshell:
I've been looking into programs like Home Internet Careers and others like it for quite sometime. In every instance it's been a scam because what happens is that 1 person or several make these sites, advertise them, get visitors, sell you the scam, then if complaints arise, they shut down the site, re-open it under a different name and repeat the same formula all over again. 
It's really a process of duplication. If a site shuts down, they just copy over everything but the name to a different place and the whole scam just keeps repeating itself. I think to date, I've reviewed 9 or 10 other programs like Home Internet Careers.
They all look the same.

The all advertise the same way.

They all have the same promises (post links for big name companies).

They all advertise you FAKE endorsements such as from big name media companies and give you the impression they are credible. This is NOT true. 
2/6/15: New version of the scam has been found! 
I always browse to see if they're duplicating and I did in fact find another one: Internet Careers Online. Page looks the same, but as usual, the name is different so I know whether it's the same person behind the site or even a different one, it's still the same scam being run. 
How sites like Home Internet Careers operate & how to avoid being scammed by them:
You are looking for a work from home opportunity so you search online.
You stumbled onto a website which supposedly has information on the subject.
There are ads on this website which promise to help you make easy money. One of those ads leads to a place like this: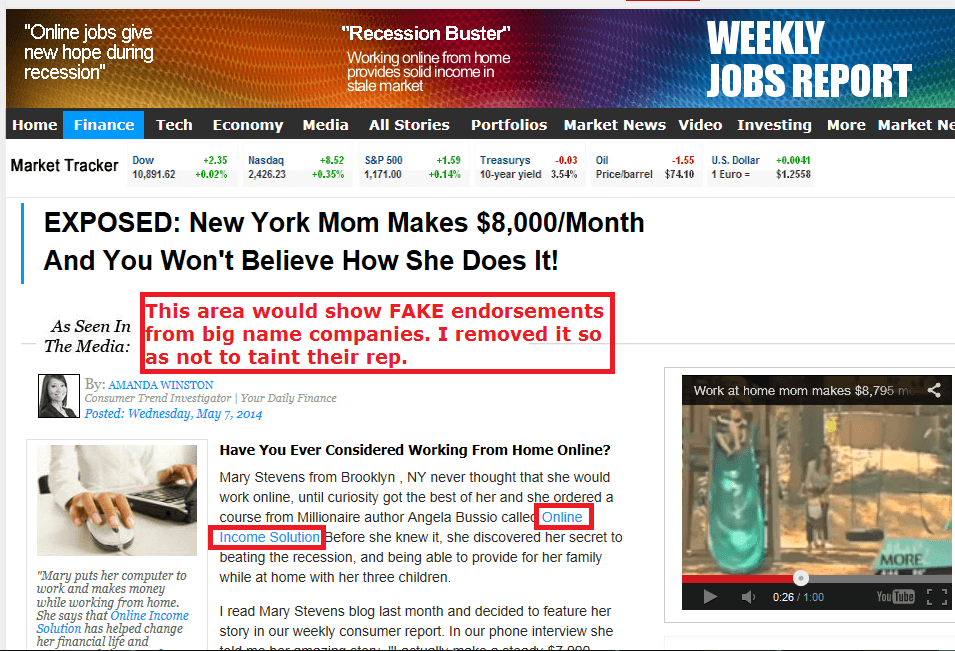 If at ANY point in time you ever stumble onto a site that looks exactly like this, click the back button and never look back. These sites are made to look professional and credible, but with nearly EVERY one of these link posting scams I've spotted, they are all coming from sites that look EXACTLY like the one I just showed you. 
They also add videos to these pages showing people making money online. But this is VERY deceptive as the video has NOTHING to do with the program being advertised on the site. This is ALWAYS the case in all of the programs like this that I've reviewed. They do this to trick you into thinking they are being directly endorsed. Again this is FALSE. 
Plus, if you look carefully, I also outlined the word Online Income Solution, which when I clicked on it took me to Home Internet Careers main website. This is an example of what I warned people about: They keep switching up names to keep the scam going. Oh and I did already do a review on Online Income Solution. The verdict: It's a scam just like this place.
Anyway, let us continue…
When you click on the link/s (in my case where it said Online Income Solution, I clicked, it took me to Home Internet Careers's main website. 
They'll tell you that you can sign up to see how many positions are available in your area. But this is a fake number. They use a system that detects your IP address & it's location and then pull up that location saying "There's an X number of spots available in your area". This gives people the impression that they have to act now before it's too late. Never fall for this.
Then you read the page about how easy it is to make money online posting links for companies. Again deceptive. I explained in a previous review that this idea of posting links is simply NOT as simple as they claim. No company is ever going to pay you such an outrageous amount of money for doing so little. What IS true is that you can promote products for big name companies and sell them on a website through affiliate links. If someone purchases the product from YOUR affiliate link, you can make money. But notice how different that explanation vs just make links for big name companies is…
Then you'll read some sob story about a mom who was looking for a work at home solution or a guy who found a secret to making easy money and getting himself/herself out of the recession. It's just all BS to create a personal connection and sell to you. In the case of Home Internet Careers, here is the sob story:
In most of the programs I've reviewed, there's always a different person. In Home Internet Careers, you are led to believe the person who made this site is Kelly Scott. I'm going to have call BS on that. I just don't believe it after seeing so many other places like it. 
Pros:
Cons:
Same copycat link posting scam site.

Fake photos, fake endorsements, deceptive advertising, ect…

It's a scam.
Final Rating: Home Internet Careers
0 Stars.
Red Flag (Scam)
0 out of 10 stars. The worst score is usually 1 star, but this one deserves the 0. If you want a REAL solution to making money from home, this is my top pick.
My Final Thoughts:
I hope this review has helped you understand what Home Internet Careers and other sites like it really are: A scam. If you know other people who recommend it or are wondering about trying it, be sure to warn them about what they're getting into. 
Additionally what I always ask is that if you know of other sites like this place, to please let me know about it so I can post it up here. You can let me know below in the comments section or you can report the scam here. Here is another place I've reviewed that's just like it:
Online Home Careers (notice the wording is similar).
What I've noticed is that they are changing up their sites more and more often. To me this signals that they're not getting as many people in anymore which is GREAT. But until we can get rid of these copycat scams for good, we need to keep informing people about it.